Sales Have Ended
Registrations are closed
Thank You for registering for The Gifts Symposium 4.30 pm sharp through to 5.30 Melbourne time Monday 6th November 2017. On the day please click in this link https://zoom.us/j/7843385806 to join in the conversation. Best regards Ian
Sales Have Ended
Registrations are closed
Thank You for registering for The Gifts Symposium 4.30 pm sharp through to 5.30 Melbourne time Monday 6th November 2017. On the day please click in this link https://zoom.us/j/7843385806 to join in the conversation. Best regards Ian
Description
symposium - a conference or meeting to discuss a particular subject; a drinking party or convivial discussion, and notable as the title of a work by Plato.
Drinking optional. I'll probably be having a whiskey. Convivial discussion the focus; to be precise candid and convivial.
We'll be using Zoom technology so you can join in from anywhere using your computer, tablet, or mobile device.
Places are limited for this event to enable everyone to have the opportunity to share.
The subject for this symposium is remarkable is the new normal, the essential fifth step of the remarkablisation of your workplace.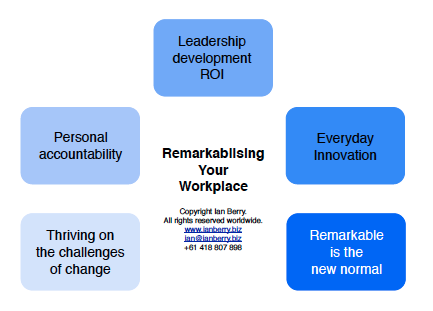 We'll be exploring the contents of the special workbook pictured below which you can download here.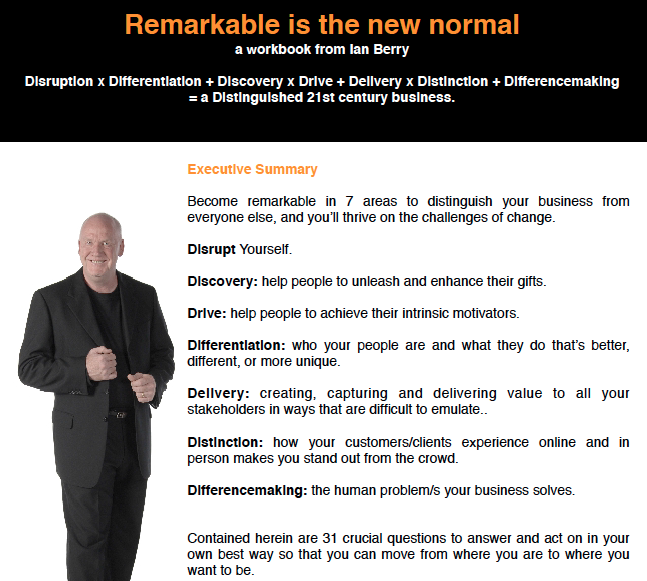 In this symposium we will be taking the first three steps of the change process pictured. As a consequence you will be ready to act on your learning from the workbook and this symposium in your own best way.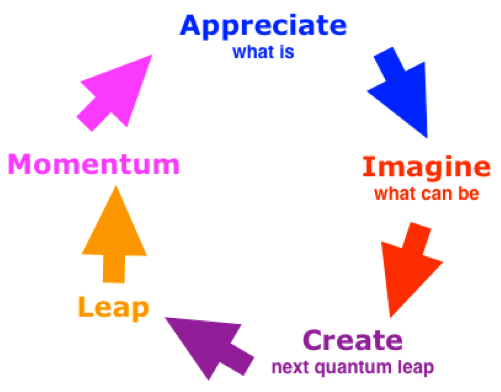 While online we will schedule a 1 hour after action review and sustaining momentum online workshop for a month after this symposium. At the workshop you will share the results of your quantum leap and we will work together on how to integrate your learning into what else is working well in your business, and how to sustain positive momentum.
A signature to all my work is that while what I say is important, it's nowhere near as important as what you hear yourself say to yourself, and then do your own unique work.
Be remarkable.
Ian
I've had the pleasure of working with Ian for close to two years in one-on-one and group settings. Ian's unconventional in his approach (refreshing!) but works to a brilliantly simple yet powerful philosophy that centres around our experiences as human beings (shocking I know!!). He's a purpose and values-driven mentor and team builder who I'd recommend to anyone.
Chris Pike, General Manager – Culture & Community, Surf Coast Shire Council
As a mentor to me and my family members who lead and manage our businesses Ian Berry has made a significant difference to our personal and business success including our 570% growth in just under 5 years.
Peter Taylor, CEO Townsend Building Services
We have had some great presentations at our breakfasts, and your presentation was one of the very best ever.
Malcolm White, Managing Director, Communicat
Ian's seminars are thought provoking and life changing.
Mark Kay, Department of Administration and Information Services