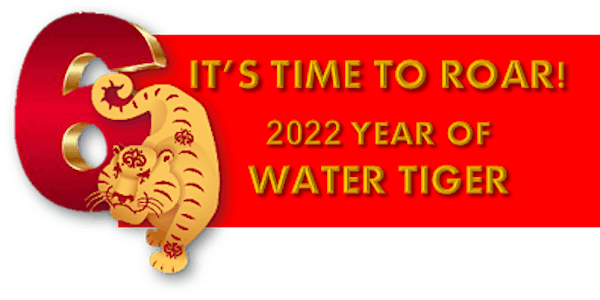 Release Your Power! It's Tme to Roar in 2022 Year of the Water Tiger
Event Information
Location
Wandin Yallock Primary School
105 Beenak Road
Wandin North, VIC 3139
Australia
Refund policy
Contact the organiser to request a refund.
Eventbrite's fee is nonrefundable.
Grab your Tiger by the tail and hold on for the ride of your life as you discover how to take control of your destiny in 2022
About this event
The Tiger is the symbol of power Worldwide. - What internal power are you going to manifest in 2022 a year of action and change?
To make the best of 2022, the Tiger assists you with the qualities of COURAGE, CONFIDENCE, AND AMBITION,
This is fortunate because the Chinese year 2022 is synonymous with unforeseen changes and surprising developments. For the 12 Chinese Zodiac signs, it is time for them to give the best of themselves to improve their living conditions significantly. It's also a good time for all those who wish to forget this turbulent past, heal their wounds and find Are legitimate place in society.
The Black Water Tiger Year has a strong sense of self-esteem and learning ability, and believe me, in 2022, this is going to be paramount if you are to navigate a safe passage. It is forecasted that situations will change without much notice, and we need to be alert (hmmm, that sounds familiar!). This applies on both a personal and global level.
But wait, there's more! Not only is it the Year of the Tiger it is also a Universal 6 year!
What the heck does that mean, well be prepared to be amazed because this is the year that you get to create a vision for the future by accepting you are the writer, director, producer, and actor in this play called "Life."
When we accept that Life doesn't happen to us, it happens from us; all of a sudden, we come from a powerful place of manifesting.
So if you are eager to make 2022 a year that you set your dreams in motion and utilize the auspicious Tiger to get you there, come and join us.
During our actioned packed day, you will discover how to position yourself to take advantage of the energies available.
Brainstorm with others who share your current Life cycle and formulate a plan of action
Discover how the Universal 6 Year works in with the Magnificent Chinese Tiger and what effect that has on your year
As your Chinese Zodiac animal sign plays a significant role in your year's outcome, you get to share with your individual Chinese Zodiac sign tribe to brainstorm how to activate the amazing abilities associated with your Chinese Birth sign
Nothing is left to chance as we will send you a fun workbook to fill in so that you squeeze the absolute best out of the day
We encourage you to wear either- BLUE, GREEN
These can also be mixed for more luck on the day to add to the fun and align with the Water Tiger!
Please don't waste another minute join us for a fun-filled but seriously powerful day and get 2022 off to a steady and productive start!
But don't dilly dally because we have a very limited number of tickets available as this event is hugely popular and is booked in advance by those who have attended our previous Chinese New Years
NOW HERE'S THE THING – In a year that demands flexibility if COVID causes a problem by rearing up its ugly head resulting in new restrictions, we will outsmart it and run the day on Zoom. If COVID taught us anything – with the aid of technology, the "Show will go on!"
So, grab your tickets as they are limited Early Bird special ends January 25th, 2022.
Date and time
Location
Wandin Yallock Primary School
105 Beenak Road
Wandin North, VIC 3139
Australia
Refund policy
Contact the organiser to request a refund.
Eventbrite's fee is nonrefundable.