Designed to provide the South Sudanese community and various support agencies and producers with the knowledge to develop programs and servi
About this event
We believe informed support services would help equips South Sudanese to lead healthy and prosperous lives in Australia. The goal of this project is to create tangible, implementable and manageable recommendations that provide real results to communities. And we would like you to be part of it.
We are asking for you to attend the conference to share your wealth of knowledge with our audience.
Members of South Sudanese community who have resettled in Australia are among the most disadvantaged and vulnerable community among other refugee groups. The critical settlement situation of the South Sudanese community is due to many issues, including a lack of sufficient support services for the community and at-risk families. Please refer to appendix A below which details the goal of the project.
Appendix B refers to the proposed education program. Africa World Books (AWB) works to educate, support and strengthen communities encouraging South Sudanese Youth to learn about their history, culture and traditions while empowering them to develop skills through education, to become financially secure, happy and well-rounded contributing members of their community.
Appendix C includes details of an event we are holding and a list of other proposed project partners invited to research and prepare a proposal with their recommendations to address these areas at the conference. These abstracts will be consolidated as a 'best practice' guide on how to help South Sudanese communities Australia wide and published.
Your support to this fundraising request will be greatly appreciated.
Yours sincerely,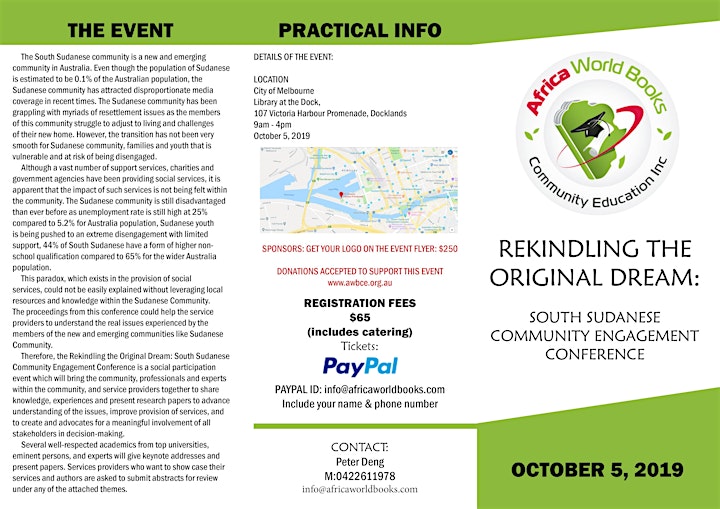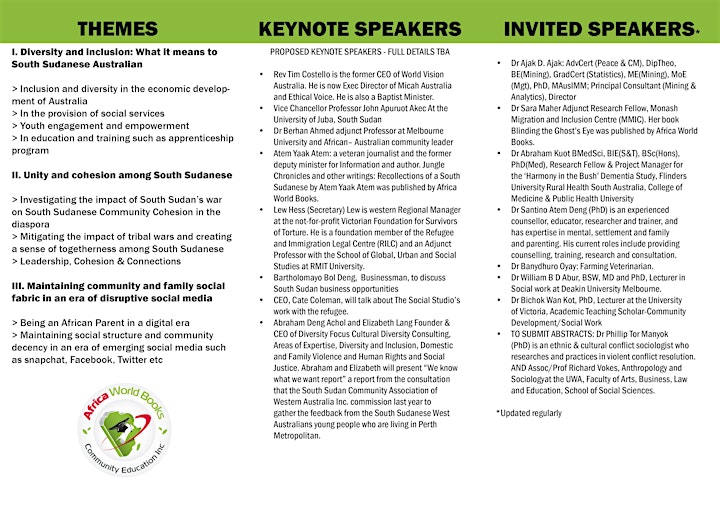 Organiser of REKINDLING THE ORIGINAL DREAM: SOUTH SUDANESE COMMUNITY ENGAGEMENT CONFEREN
Africa World Books Community Education was founded by Peter Deng, who also founded Africa World Books. His drive to create both of these businesses was rooted in his desire to maintain a strong connection to his homeland while uniting the community in Australia, and encouraging progress and success. 
​