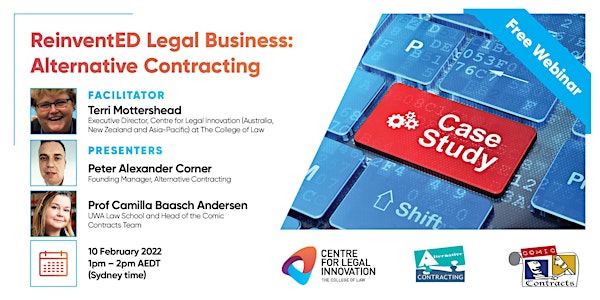 ReinventED Legal Business: The Case Studies - Alternative Contracting
CLI's ReinventED Legal Business: The Case Studies - Alternative Contracting
About this event
Welcome back to the Centre for Legal Innovation's (CLI) ReinventED Legal Business: The Case Studies series where we showcase why, how, when and where legal businesses are doing things differently.
In this series, Terri Mottershead, CLI's ED, chats with founders and leaders of law firms, in-house legal departments, ALSPs, Community Legal Centres, Legal Consultancies, Legal Incubators and Accelerators that have reimagined, repurposed, or reinvented their legal business.
In this session, we'll be chatting with Peter Alexander Corner, Founding Manager, Alternative Contracting and Prof. Camilla Baasch Andersen at UWA Law School.
Alternative Contracting was founded on the back of the Comic Contracts Project at UWA, where Peter was working with the lead researcher and partner, Prof Camilla Andersen at UWA. As a direct collaboration between research and industry needs, the company specialises in providing fast and affordable bespoke legal illustrations for contracts, regulations, and other legal information.
The design of contracts in visual/illustrated form is to ensure transparency, clear behavioural drivers, and improved engagement with, and perception of, contractual relationships is at the core of both the research and the business.
Where the research team continues to explore new applications and test the impact of images in legal contexts, the business provides faster and easier avenues to commercialise the applications of the images to all sizes of businesses.
In this session Peter and Camilla will showcase some of the work they have done, and explain the benefits.
You'll find information about other case studies in this series and the registration links as we add them here.
If you can't make it to the live webinar (or even if you can), you'll be able to catch the re-run (as many times as you like) when we post it on the CLI-collaborate (CLIC) free resource hub – there's an amazing library of practical and helpful videos waiting for you there right now!
And, if thought provoking conversations with global leaders and doers on evolving legal practice, legaltech, AI and legal innovation interests you too, please subscribe to our free The Legalpreneurs Sandbox podcast series.