About this Event
Booking and PAYMENT can make on this link http://www.tundeworld.com/Reiki-Level-2-Course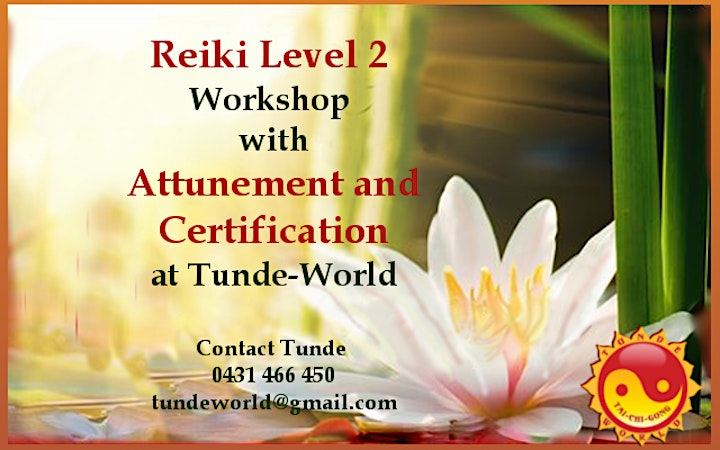 Double your energy! Only 4 places left for Usui Shiki Ryoho Reiki 2 on 16th and 17th November 2019
Booking and PAYMENT can make on this link http://www.tundeworld.com/Reiki-Level-2-Course
Are you drawn to the path of the Reiki healer? Learn to ease emotions, release preconditioned limiting beliefs, and send healing to anyone in the world!
Gain tools to create a positive outlook everyday.
Send healing to your loved ones in different states and countries.
Release emotional limitations of the past.
Receive the Sacred Reiki symbols.
Practitioner course recognised by Australian Reiki Connection professional body.
Reiki Level 2 will give you the tools to clear and balance energies of the past and future. You will receive three sacred Reiki symbols. These powerful symbols can be used to energize your body, clear past lives or trauma, and magnetize positive energy for the future. You can even apply them to cleanse your home or office, empower your business cards or website, and send Reiki for successful public speaking events and more.
Our level 2 Reiki course is open to anyone who has studied level 1 Reiki - either with us or with any other Reiki teacher. If you have not studied with us previously, we will happy to help you with a re-fresh 2-3 hours workshop to help you prepare. This workshop including to re-fresh the Level1 hand positions and meditations we taught in level 1.
Over the years, we have had lots of students who didn't previously study with us take our level 2 course, and they all fitted in beautifully.
Booking and PAYMENT can make on this link http://www.tundeworld.com/Reiki-Level-2-Course