Description
Start Energy Healing!

Have you wanted to work as an energy healer?

Start to feel and tune into your aura and chakras?

Know what its like to channel energy from your palms?

Become attuned to Reiki 1 yourself - Reiki 1 teaches us to become more in balance with the universe and Universal Life Force Energy. It allows us to become more in tune with ourselves and raises our vibrations. Learn the foundations of energy healing and start seeing and moving through energetic blocks.

Reiki 1 is the foundational level and no prior experience is required.

You will learn to work in balance with the universe and to give Reiki, allowing energy to flow through us to heal not only ourselves but the universe as well.
You will learn;

- What is Reiki? A debriefing of how Reiki works and its impacts.
- Reiki's history, how it came to the west and the modalities it can be combined with.
- Activities for feeling and seeing energy, how to feel the aura, how to recognise blocks.
- You will learn about the chakras and energy system and how to feel and see wether the energy is flowing smoothly.
- Understand and use your psychic strengths and abilities to use within your Reiki sessions and to bring in your own gifts as a Reiki healer.
- The Reiki attunement which opens you up to be able to channel reiki energy
- How to give a Reiki treatment to others
- How to give Reiki Self Treatment
- Techniques for grounding, protecting, charging yourself with Ki energy and telepathic love therapy.
- How to use and work with a Pendulum
- Techniques for crystal healing


Read more on:
www.houseofreiki.com.au
An extensive manual is included.

Reiki 1 can be chosen as a step towards becoming a Reiki Practitioner or as investment in your health and tool along your spiritual journey, letting us to become more intuitive and in tune with ourselves and the world around us, as well as understanding our true paths here on earth.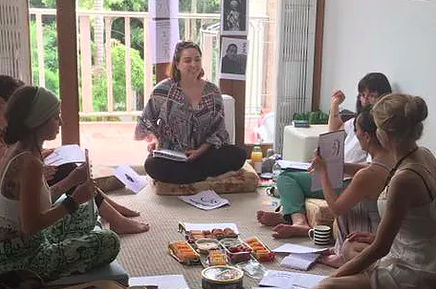 "
The first day I met Athina and experience her magic was at a group meditation. She was there to channel in front of us, she channeled the a few crystals and the entities/devas that lived within the crystals. We got to learn more on how to care for those specific crystals and work with them. Afterwards a few people had asked if she could channel their guides/higher self which she was more than happy to and was very interesting. I really wanted a channeling myself but I was too shy to ask. After she channeled a girls higher self she turned to me and said "if you want me channel any or your guides or angels or higher self I would love to so don't be afraid to ask, using my gift to help others is my passion." So I basically didn't even have to ask which was amazing and made things alot easier. She channeled a lot of information I had to confirm and a lot of information I wasn't yet aware of I won't ever forget the day I had a face to face conversation with my higher self a.k.a my god aspect, I don't think many people can say they have and I have Athina to thank. I am so grateful to Athina and her selfless work.
"
- Grace Lau