Registration: International Symposium on Performance Science 2019
Description
The International Symposium on Performance Science (ISPS) is a biennial meeting of performers and scientists that provides a platform to discuss all facets of performance and the skills which underpin it from interdisciplinary perspectives through topics such as motivation and the development of expertise, novice to elite levels of performance development, the psychology and physicality of performance, performers' health, and the perception, analysis, and evaluation of performance across the arts, as well as the natural, social, and applied sciences.
ISPS 2019, convened by Professor Gary McPherson and Dr Solange Glasser (Melbourne Conservatorium of Music) and Professor Aaron Williamon (Royal College of Music, London) will be held in Melbourne, Australia at the new Ian Potter Southbank Centre at the University of Melbourne's Southbank campus. This year, ISPS will be combined with the Australian Music and Psychology Society (AMPS) conference.
The previous symposia in Porto, 2007, Auckland, 2009; Toronto, 2011; Vienna, 2013; Kyoto, 2015; and Reykjavík, 2017 attracted delegates from over 30 countries to discuss performance excellence from a wide array of theoretical, practical, psychological and physical perspectives.
REGISTRATION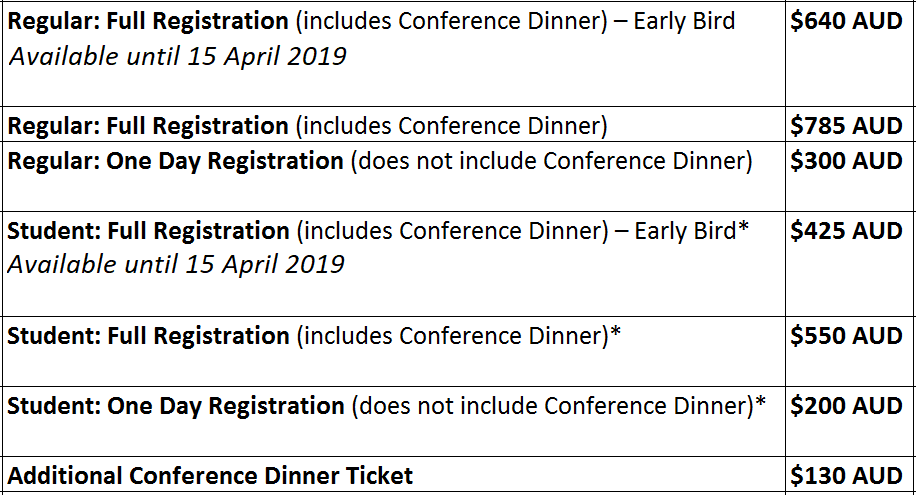 Early Bird tickets for full registration (including dinner) are now available. This offer is available until 15 April 2019.
Please note that tickets for one-day registrations include lunch, but not dinner.
All prices are in Australian dollars (AUD).

* Student Registration is available to students undertaking a university degree who are employed for no more than 50% of a full-time salary. A valid student card or any documentation proving student status must be brought with you to the conference for verification at registration.