Description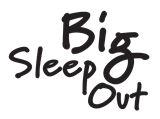 The Big Sleep Out is being held to raise much needed funds to support our locals who are at risk of or who are experiencing homelessness.
When - 6pm Friday 4 November to 8am Saturday 5 November
Where - Shepparton Show Grounds (Archer Street Entrance)
Come along and show your support by sleeping out in a sleeping bag and cardboard, in your car or on a couch. All funds raised will go towards accommodation, bedding, food and personal hygiene items for locals that are at risk of, or experiencing homelessness. Up to 50 people sleep rough every night.
To register your business, school, family or friends as a fundraising team, or to register as an individual please follow the link to go to greatershepparton.com.au/bigsleepout and continue on this site to pay registration fee (see below)
There will be prizes for fundraising categories: Business, Schools, Individuals and Families.
Aren't able to attend, however would like to donate? Please follow this link to Donate Now.
The event is brought to you by Greater Shepparton City Council, Diverse Builders and The Community Fund Goulburn Valley.