The Regional Youth Convention (RYC) is a Southeast Asian youth convention that focuses on building leaders and da'ies of tomorrow.
About this event
THE REGIONAL YOUTH CONVENTION IS BACK FOR MORE!
If you are either a social activist, Muslim activist, student, IT graduate or executive, educator, influencer, asatizah, or you are a Muslim youth anywhere in Southeast Asia who aspire to contribute a greater benefit to our community and our ummah, then this event is for you.
Regional Youth Convention (RYC) is a youth-empowered annual gathering inaugurated 5 years ago in Kuala Lumpur, Malaysia. After that, Thailand and the Philippines have also became the country host for RYC.
This year's RYC focuses on initiating the collective efforts of the youths to utilise the innovative opportunity of big data analytics to reach our common goal of becoming successful leaders and da'ies, and thus reimagining and reshaping the impact of our work on social causes.
What's happening this year?
With this year's theme of Big Data, RYC's aim is to touch the surface and introduce big data to youths! However, everyone is invited, as big data can make a major impact on your efforts to further your causes! However, there's no such thing as a free lunch, Big Data comes bundled in its own sets of challenges.
What are the perks? What are the challenges? Stay tuned to find out more!
Here's what you should expect:
A deep dive in the history, the present and the future of Big Data
Look into data-related advancements
How the youth intertwines with data
Utilising data to create bigger impact
Ar-Rasul's da'wah and how data could empowered his continuing mission
Case studies on data utilisation
A class on big data tools for social causes!
Live audio translation to Bahasa Malaysia and Arabic are provided.
Early Bird Specials
The first 150 participants to register and attend The Regional Youth Convention will receive a FREE coupon* to attend Big Data Analytics Class organized by the Malaysian Research & Education Foundation (MyREF). [Price capped at RM15/coupon]
All these will be prepared for you to make a difference,
are you prepared to take it on?
Register today!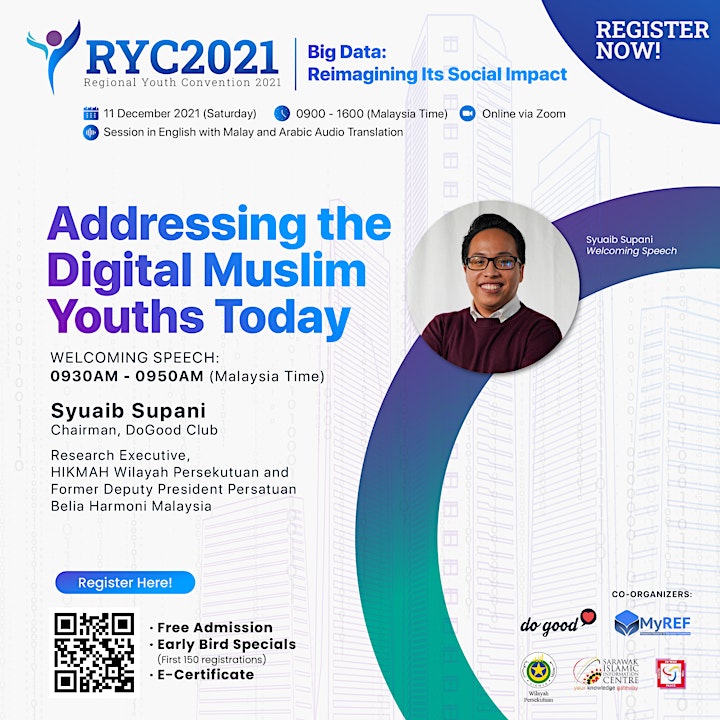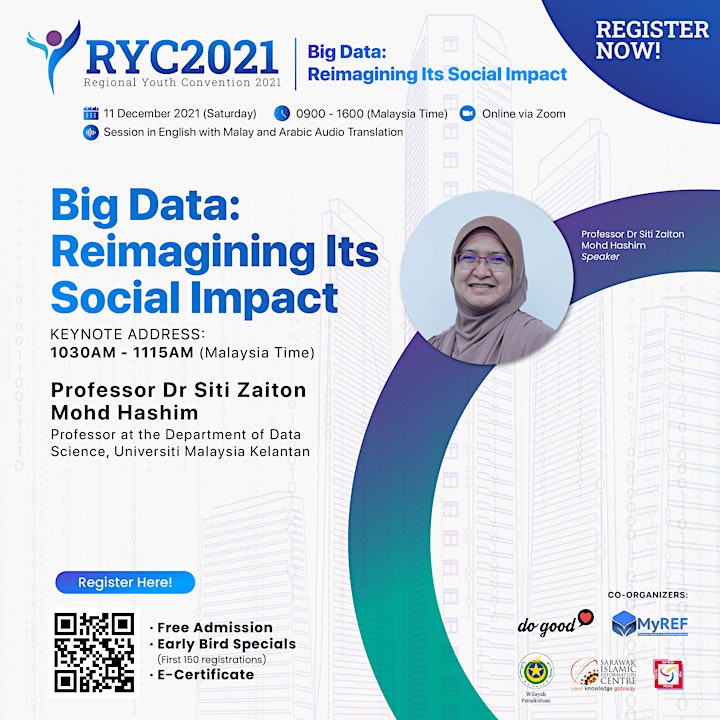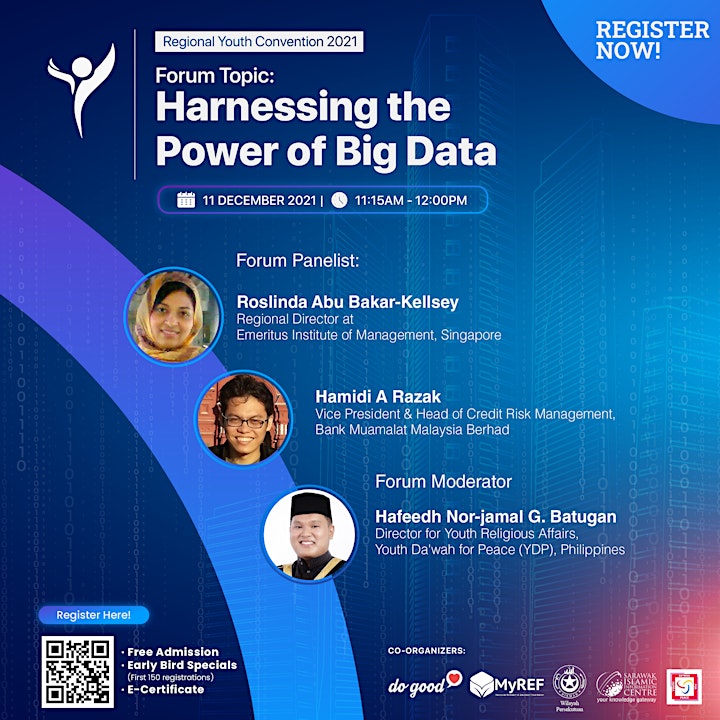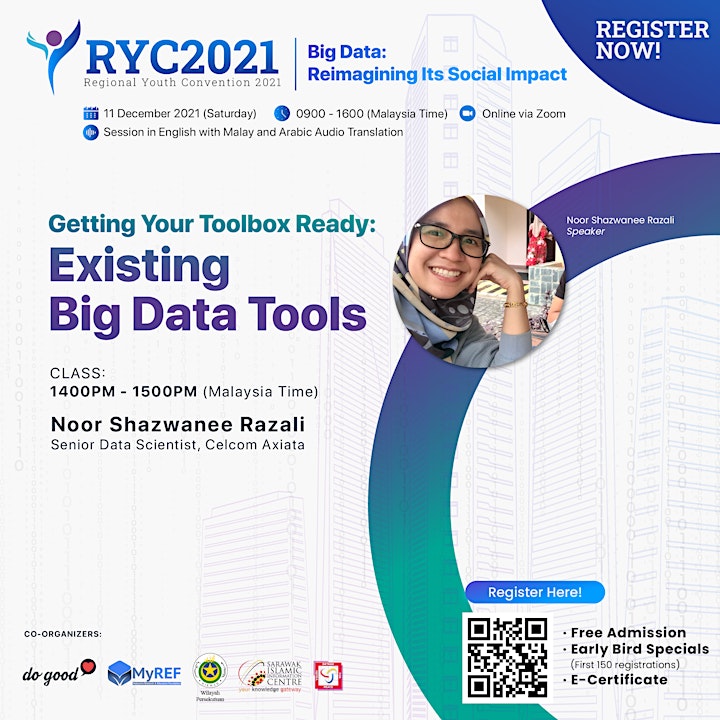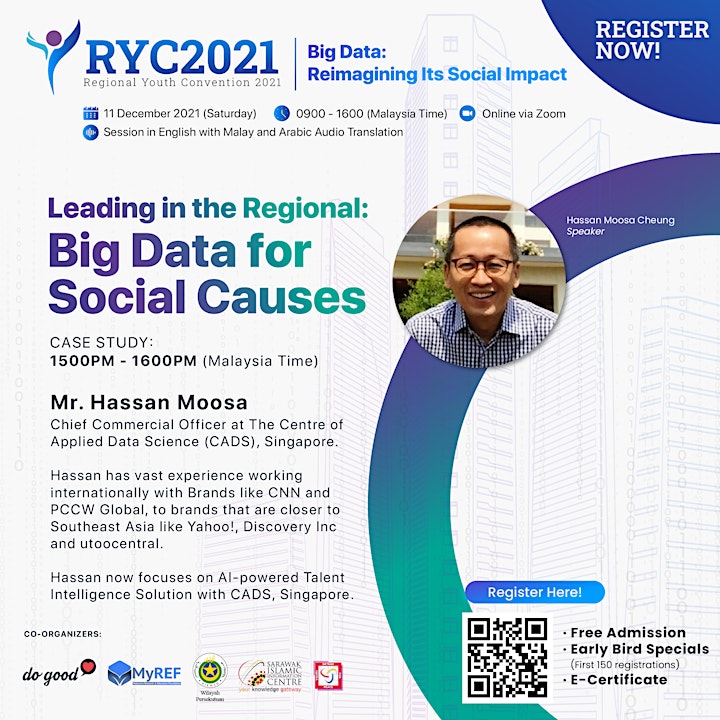 About The Organisers
DoGood Club Malaysia
Do Good (PPM-029-10-04052018) is a digital advocate for a divinely inspired way of life. We serve as a research and learning centre, focusing on good moral values and practices, and actively enjoining good and forbidding evil. We cover all social, economic and political aspects of human life and the environment, and strive for a better world for all.
Malaysian Research & Education Foundation (MyREF)
Malaysian Research & Education Foundation or MyREF, is a professional engineering and technology-based Foundation focusing on research and education development involving engineering & technology, social studies, Islamic development and many more.