RegenAG®: Joel Salatin: Pastured Beef and Pork: Masterclass

Saturday, February 23, 2013 from 9:00 AM to 5:00 PM (AEST)
Event Details
Joel Salatin: Pasture Beef and Pork: Masterclass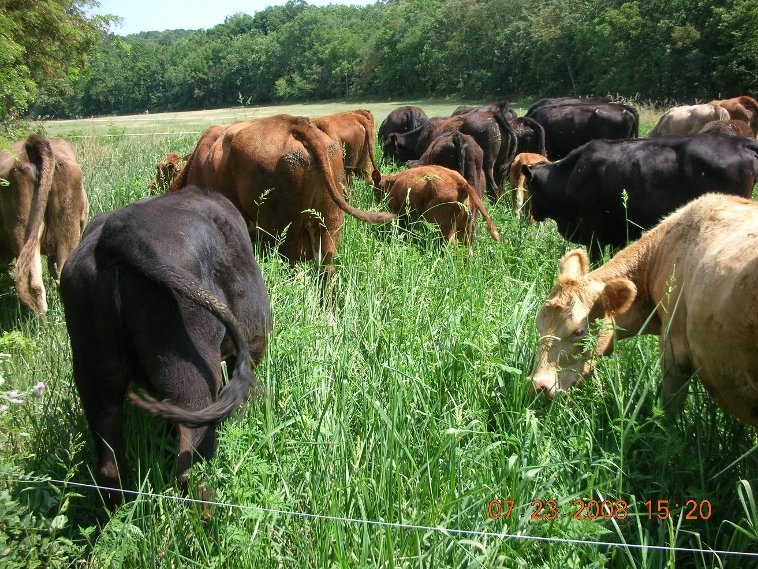 Join Joel Salatin for a unique one-day masterclass sharing his innovative beef and pork production systems at Polyface Farm. Learn how to set up your own small-farm enterprise for 'beyond organic' mob-stocked beef (with integrated eggmobiles) and pigearator + forested pigs, using cost effective, ethical, DIY systems!
Joel will share his family's hard-won knowledge on how to start small and succeed in producing ethical, 100% pastured beef and pork that is of exceptional quality, and which can be part of a profitable, regenerative farming enterprise, built from the ground up.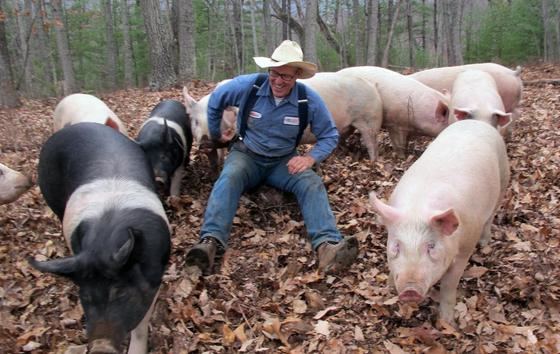 This masterclass will look closely at Polyface's beef and pork operations from start to finish, including but not limited to:
Polyface's 'Salad Bar Beef' systems, which improve the land while producing great 'beyond organic' beef 

Polyface's pigearator systems, using pigs as compost turners over winter

Polyface's forested pig systems, and how they are regenerating the landscape while producing great pork

Polyface's innovative direct marketing and buying club systems for getting the above products to market.
Joel's seminal book Salad Bar Beef has been highly influential to many small-farm producers and beginner farmers worldwide, who are looking for cost effective and ethical ways to get into farming via mob-stocked grazing on a small scale.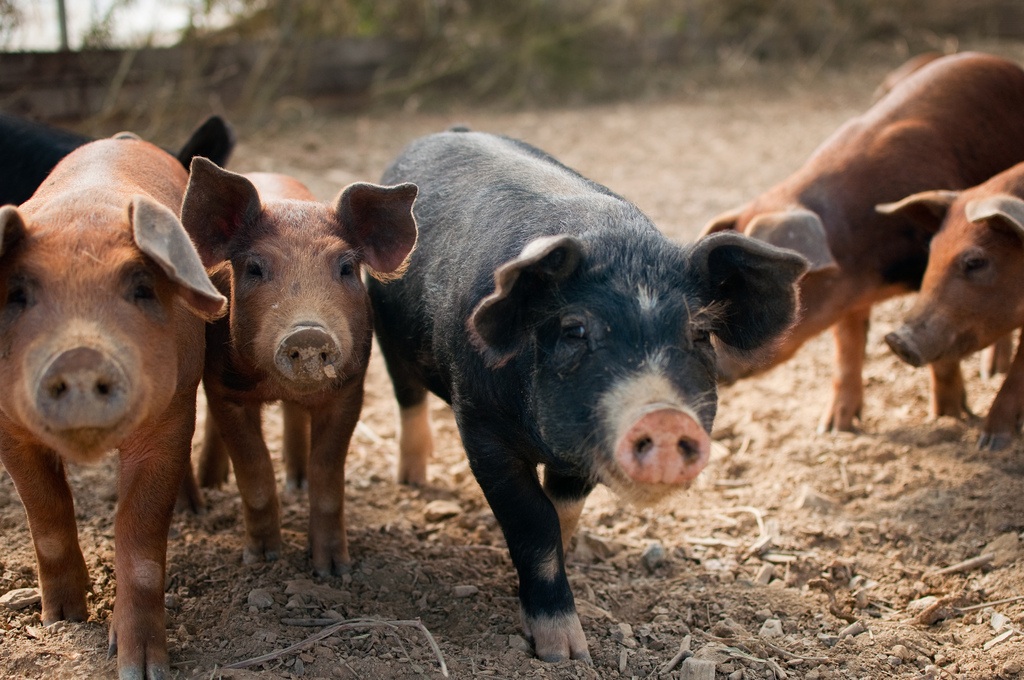 For the first time in QLD, Joel will spend an entire day explaining the nuts and bolts of his innovative, modular beef and pork operations which are now taking off in the small-farm scene in the USA, due to so many farmers going to Polyface Farms to see how it's done.
This masterclass is the next best thing to spending a week at PolyFace Farms in Virginia, observing and learning about the beef and pork systems there. Joel's accessible and friendly speaking style means you'll get a heap out of this day.
Regular Q&A during the masterclass will ensure that your questions get answered, and that you'll leave this masterclass with a good understanding of what is involved to get a range of pastured beef and pork operations up and running, so you can get farming!
About the teacher: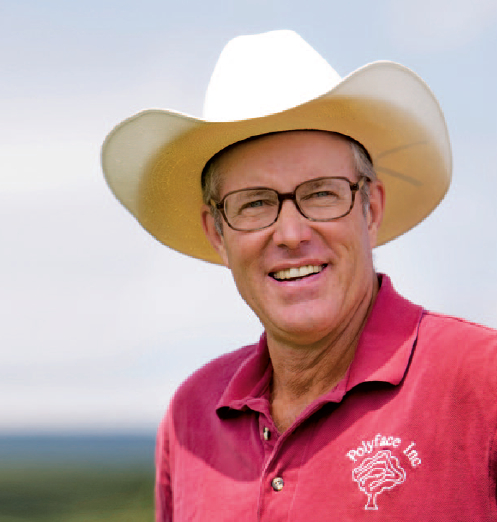 Joel Salatin is a third generation family farmer working his land in Virginia's Shenandoah Valley with his wife, Teresa, son Daniel, daughter Rachel and their families.
The Salatin Polyface Farm, an organic grass-fed farm, services more than 3,000 families, 10 retail outlets and 50 restaurants through on-farm sales and metropolitan buying clubs.
Joel has been called 'the world's best farmer' by TIME magazine and is internationally respected for his farm's innovative, integrated animal systems. He is also the author of 8 books including the best seller Folks, this Aint Normal. Joel also writes extensively in magazines such as Stockman Grass Farmer, Acres USA, and American Agriculture.
Don't forget to check out the rest of our Joel Salatin Masterclass subjects: You Can Farm (21st Feb) and Pastured Poultry (22nd Feb). Book for the whole series at once and receive 20% off.
RegenAG® proudly presents Joel Salatin's Masterclass series in association with Milkwood Permaculture and HeenanDoherty. For information on the NSW masterclass, email kirsten@milkwoodpermaculture.com.au
For further information, visit the RegenAG® Local Farms & Community website page at www.RegenAG.com or contact Kym or Georgie on Wk: (07) 4086 8019 or Mb: 0447 054 466.
Email us at qld@regenag.com
Have questions about RegenAG®: Joel Salatin: Pastured Beef and Pork: Masterclass?
Contact RegenAG®
When & Where

Lockyer Valley Cultural Centre
34 Lake Apex Drive
Gatton, Queensland 4343
Australia

Saturday, February 23, 2013 from 9:00 AM to 5:00 PM (AEST)
Add to my calendar
Organizer
RegenAG® is a community based family enterprise committed to helping regenerate Australia's farms, soils, communities and on-farm livelihoods. RegenAG®'s charter is to provide farmers, land holders and communities with education and training opportunities to learn from the world's most innovative and effective regenerative agriculture practitioners in a wide range of fields:
Holistic Management® / Keyline® / Pasture Cropping / Biofertilisers / Chromatography/ Microbe reproduction/ Building Local Food Systems / Beyond Organic Farming / Integrated Farm Design and more...
Our unique line up of instructors are some of the very innovators currently smashing records across the globe for on-farm profits, topsoil creation, creating oasis from wastelands and building local markets through regenerative techniques. They have proven that regenerative agriculture can be extremely profitable, scalable, replicable, understood and enthusiastically implemented when the opportunity for learning those techniques is presented and made available. Our courses, practical workshops and events provide access to and empower participants with the essential skills and knowledge needed to transform our landscapes, food systems and communities.
We are committed to supporting our learning communities post course through our RegenAG® Farmer's Network and collaboration with regional bodies, Landcare organisations and local councils to provide practical assistance during transition and to facilitate opportunities for further knowledge transfer within regions around Australia. All the regenerative methodologies and techniques we teach and promote work together as a powerful 'tool kit' to regenerate Australia's farms, soils, communities and on-farm livelihoods.
We believe that by empowering farmers, landholders, consumers and professional organisations with the RegenAG® 'tool kit' to regenerative profitability in all it's manifestations, the potential beyond this for broad-scale community profitability and environmental regeneration as a result, is unlimited.