Description
October Holiday's Reflect Growth Meet Up
The next meet up is here! You've been waiting a while too - we missed the last holiday's slot didn't we! We've picked a venue in the Southern Suburbs this time - All thanks to a vote on our Facebook Page. The Reflect Growth Community is still growing strong as we continue to focus on empowering teachers to be the best learners that they can be. By creating opportunities to share stories of practice, to support each other and to delve deeply into how and why we teach the way we do, we know that we're inspiring and helping teachers to grow.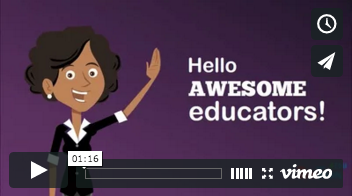 What's the Reflect Growth Community for? from Selena Woodward on Vimeo.
Co-create
At the heart of that community are the people who are helping to develop an application that is designed to allow teachers to take control of defining what teaching quality really is... a 'fit bit' for teacher professional development with one aim - empowering teachers to be the best they can be. These co-creator meetups have, until now, been reserved for those involved in that software project. Now that the software is deep in development we want to open up these meetings to others and invite them to join the rich learning environments we have come to value. To continue to co-create in learning on a particular theme.
---
The Theme - Assessment
Having read the report from the Professional Learning Report from the TRB, we've decided to address Assessment this time around. According to their research, that's a topic that a lot of South Aussie teachers want to learn more about. Of course, there are lots of ways to assess and for lots of different reasons! So... we'll look at Assessment in three ways:
Data analysis - How to read the assessment to plan for improvement!
Summative - Is this the most important type? What kinds of assessment are we using that fall under this category?
Formative - or.. is this the most important type? What cool assessment activities do you have that fit here?
As usual, I'll be looking for some co-creators who'd like to share their stories and I'll create some meta-teacher reflective questions to guide us. I'll update you as I find our who's stories we'll be sharing and if you're keen to step up then please drop me an email or a message in reflect growth :) We will, of course, offer a certificate at the end with all the AITSL standards we've touched upon listed - along with the number of hours you've worked with us. So it all counts towards your PD hours and TRB requirements.
Special Guests
We're also pretty excited that some of the team from Entrepreneur Story will be around in the morning to work with us and share with you some exciting opportunities they have coming up. They work with local primary and secondary schools to inspire students and teachers who want to grow their entrepreneurial skillset. I'm looking forward to their spin on things :)
Spread the word, bring your colleagues to share in what is always a wonderful meeting of minds. We're ready to share how we've been planning, what we're thinking of planning for next Term and to get some great suggestions, tips and inspiration from each other!
If you're after a little more PD, then you might like to stay after lunch for our E-portfolios and Reflective Practice session. This session is run with our Edufolios hat on. :) Same location, starting at 12:30 - more details here.
---
FAQs
Why is there a cover charge?
We've added a small cover charge to this meet-up to allow us to pay for room hire and cake :)
What are my transport/parking options getting to the event?
There are a few spaces directly outside the center. There is also ample off road parking in the neighbouring streets.
Public Transport:
Trains

: Seaford Railway station is a 15 minute walk from the Community Center.
What can/can't I bring to the event?
Bring your own internet enabled device if you can. That way you can connect with all the resources we'll be sharing and collaborating with. Wifi will be available.
Where can I contact the organiser with any questions?
You can contact us at feedback@reflectgrowth.com
Organiser of Reflect Growth - Co-Creator Meet up October Holidays
Reflect Growth is a Co-Creation project developing a software system that taps into areas of global best practice and the latest research on teacher quality.  It is a professional tool for learning and teaching professionals.  It provides all the analytics you will need to profile your practice for performance review, evidencing standards and choosing learning pathways for professional development.