Description
Actors, put yourself in the best position to get auditions & work in the US.

I want this to be really good value for actors.
I want you to have outstanding American accent skills, that sit naturally with your voice. That's why this course runs over six weeks, to allow these sounds to really settle into your body.
I also want you to get more than just learning skills - I want you to have something to show for your work. I want you to walk away with showreel footage that you are proud to share with agents, directors and casting directors.
Here's how we're going to do it...
Week 1: Get the tools to learn any accent
Week 2: General American accent & choose your showreel scene
Week 3: Talk like an American, detailed accent work
Week 4: Apply the American accent to your showreel scene
Week 5: Showreel scene rehearsal & preparation
Weekend: Film your scene

Why do this course?

As an actor, I know that being able to get both accent training & showreel material can be a difficult and expensive undertaking. I created Reel American to help you kill two birds with one stone, giving you the resources you need to start getting US auditions.
12 places only! We're keeping the group small to give you lots of contact, feedback and coaching.

What you will walk away with...
the ability to perform with a detailed American accent

mentorship for showreel scene selection throughout the course

accent coaching & direction on your selected scene

a professional scene for your showreel that is unique to your brand
Details
Tuesday June 27, 7-9pm
Tuesday July 4, 7-9pm
Tuesday July 11, 7-9pm
Tuesday July 18, 7-9pm
Tuesday July 25, 7-9pm

Weekend July 29 & 30, times TBA for filming
Limited to 12 participants.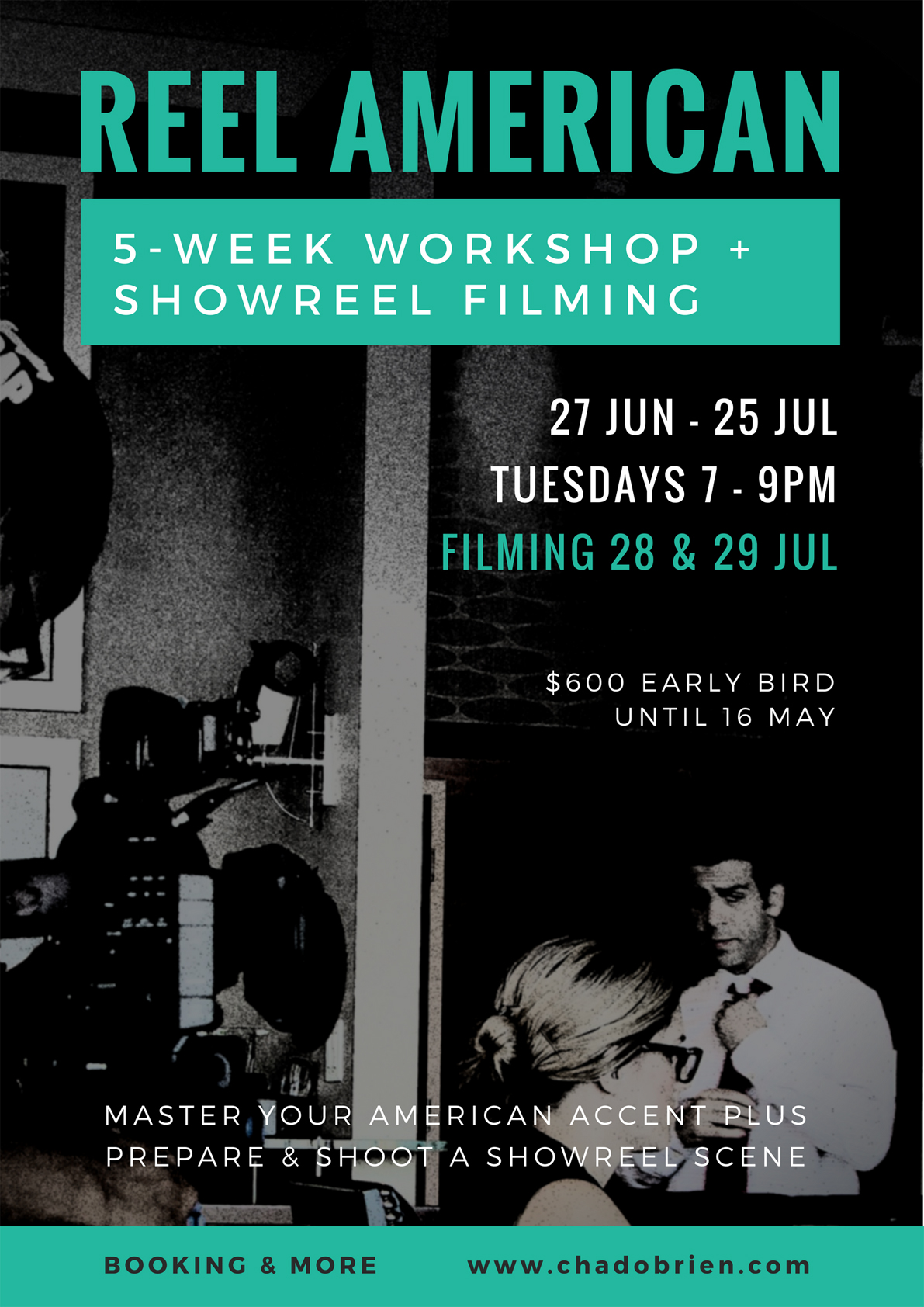 FAQs
What's the refund policy?
Please note that in the extremely unfortunate event we need to cancel the Reel American workshop, we reserve the right do so if (a) the Workshop does not attain a minimum number of ticket holders or (b) the presenter falls ill. In the unfortunate circumstance of this Workshop being cancelled, participants will be notified at least 48 hours before commencement, and credit notes or refunds will be offered.

If you are unable to attend the Workshop, please let us know 48 hours prior to the event as your attendance may affect our ability to host the event.
Full refunds only available until 25 June 7:29 pm.
Please note that we cannot offer refunds for no-shows or partial refunds for variable attendance or latecomers.
How can I contact the organiser with any questions?
Please contact hello@chadobrien.com