Sales Have Ended
Registrations are closed
Oops, your session timed out! Please go back to the registration page and start again :)
Sales Have Ended
Registrations are closed
Oops, your session timed out! Please go back to the registration page and start again :)
BOOKING for 1 1/2 hour Try Clay Target Shooting Session Sunday 5th September 2021 (arrive 1:30pm) shoot 2-3:30pm
About this event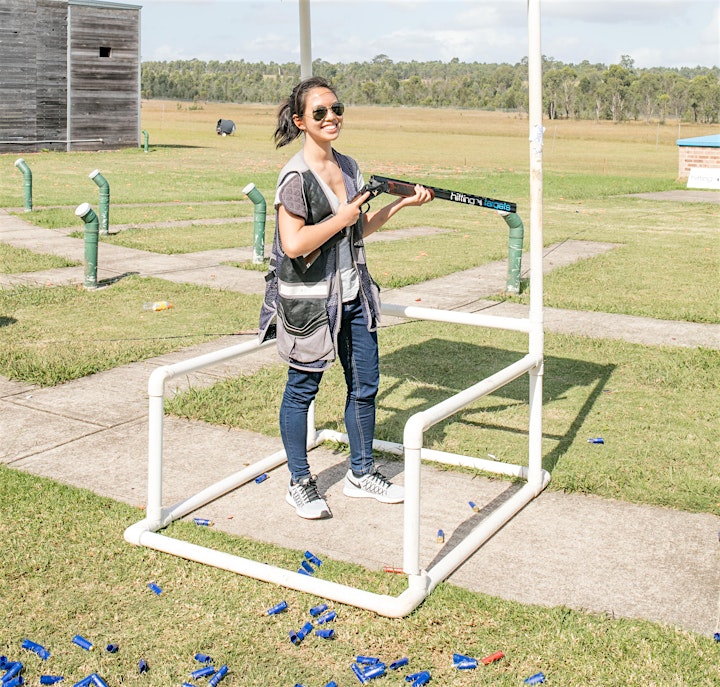 "Try Clay Target Shooting" TICKET for Sunday 5th September 2021
arrive at venue 1:30pm for registration
Session commences at 2pm
Finishes 3:30pm
IF YOU HAVE A TICKET please continue....to REDEEM click on the GREEN "REGISTER" button above
IF YOU DON'T HAVE A TICKET - BUY & REGISTER
APPROXIMATE SCHEDULE FOR  the 1 1/2 hour TRY CLAY TARGET SHOOTING Group Session
1:30pm         Sign in to Range (show photo ID) Complete the Police Declaration saying you have been well behaved for the past 10 years and have been/are mentally stable.
2pm        SAFETY BRIEF, basic shotgun and range safety, gun selection/fitting & shotgun handling and firing techniques
2:20         practical shooting instruction and coaching – warm up practice …
                  until the participants get the general hang of it
2:40         Mini Competition
3:10        "Quick Draw DUEL" – who is the fastest gun?
3:25        PHOTOS & PRIZE ceremony,
3:30pm      Finish
What is included:  
Shoot real 12 gauge shotguns, using live ammunition at moving clay targets whilst being instructed by Olympic  Champion Suzy Balogh and/or her staff
between 35-50 targets are usually shot at over 1 1/2 hours per person.
Group minimum size 10 people Maximum 16 people
No experience or license necessary.
Suitable for beginners to advanced and all fitness levels
Ages 12+ years (we have had participants male and female, aged from 12 to 89 years so far! we have even had quadriplegics roll on in and break a few clays with our guidance!)
Participants between 12-18 years need to have a parent or court appointed legal guardian present throughout the session and also have their own photo ID and proof of that guardian/parent relationship.
Everything you need is supplied - ammunition, targets, use of firearms, hearing and eye protection, safety frames and shooting jackets, range fees, insurance for shooters and spectators and temporary firearms licensing and temporary Shooting Club membership.
1 on 1 tuition when shooting – we will stand by you and guide you through each shot.
Each participant will receive a signed, boxed clay target.
We endeavour to take photos of each participant shooting and then upload them to our Facebook page for your free downloading.
To be able to participate you MUST be able to answer "NO" to each of these questions. You will be signing a Police declaration stating this.
To be able to participate you MUST be able to answer "NO" to each of these questions. You will be signing a Police declaration stating this.
a) Been refused or prohibited from holding a firearms licence or permit or had a firearms licence or permit suspended, cancelled or revoked?
b) Been the subject of a Firearms Prohibition Order?
c) Within the last 10 years been convicted of an offence involving firearms, weapons, prohibited drugs, robbery, violence, terrorism or an offence of a sexual nature?
d) Within the last 10 years been the subject of a Family Law or Domestic Violence Order or an Apprehended Violence Order (other than an order that was revoked)?
e) Ever attempted suicide or self harm?
f) In the past 12 months been treated or referred for treatment for alcoholism, drug dependence or a mental illness within the meaning of the Mental Health Act 2007 or as a mentally disordered person within the meaning of that Act?
g) Currently subject to a Good Behaviour Bond?
h) Currently subject to an Interim Apprehended Violence Order?
i) Currently suffering from any mental illness or other disorder that may prevent you from using a firearm safely?
COVID-19 we have a Covid-19 Safety Plan in place to do our best to offer a quality service whilst considering your health
*** Our Hitting Targets "TRY CLAY TARGET SHOOTING" vouchers are valid for 36 months from DATE OF PURCHASE
*** These public sessions are held a minimum of every month, usually Sundays and sometimes Saturdays and through summer months Friday evenings. These are non-exclusive group sessions. These sessions are perfect for couples, individuals or small groups who want to give clay shooting a try
Organiser of REEDEEM VOUCHER - Sunday 5th September 2021 "TRY SHOOTING" 2-3:30pm