Sales Have Ended
Registrations are closed
WorkAbility Jobs Roadshows employer spots fill quickly. The waitlist is enabled so leave your details and we will contact you if we have a cancellation or we are able to make space. In the meantime, why don't you sign up for the WorkAbility Queensland mailing list. www.workabilityqld.org.au
Sales Have Ended
Registrations are closed
WorkAbility Jobs Roadshows employer spots fill quickly. The waitlist is enabled so leave your details and we will contact you if we have a cancellation or we are able to make space. In the meantime, why don't you sign up for the WorkAbility Queensland mailing list. www.workabilityqld.org.au
Description
WorkAbility Queensland, Redlands Disability Network and Redlands City Council are pleased to bring you this Redlands Jobs Roadshow.
The implementation of the National Disability Insurance Scheme (NDIS) means a huge increase in demand for new workforce to enter an exciting variety of careers in disability. The projections are for an added demand for up to 30 000 new workers in Queensland.
This increase to demand means that industry has about half of the workforce that it needs.
A WorkAbility Queensland Jobs Roadshows collaborates with employment and training programs to stimulate interest and increase the supply of new workforce to enter careers in disability while at the same time offering employers access to a high volume of new workforce intake into their candidate pool.
Local employment and training programs are preparing keen and ready jobseekers to attend this Jobs Roadshow.
Candidates are pre-screened for:
Self selected interest in a Career in Disability - Everyday Support, Specialist Support, Administration & Management

Communication skills

Working with vulnerable people - self screening questions
Jobseekers are being drawn from:
All Redlands suburbs including the Islands

Adjoining Brisbane and Logan suburbs.
Employer benefits
Experience pre-screened referrals from local employment and training providers

Access a high volume of new workforce intake into candidate pools

Development of ongoing supply of new workforce referrals
What is a Jobs Roadshow?
It is a high volume recruitment event. We bring the jobseekers, you bring your recruiters and we set everybody up to engage in speed interviewing. You will meet a lot of candidates in a short amount of time.
A recruiter can expect to meet 15-20 candidates and we recommend you bring a minimum of 2 recruiters. Employers interview an average of 35 candidates at each event.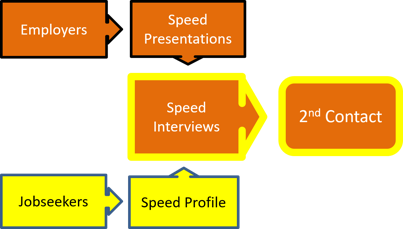 What is a Speed Presentation?
Your 3-5 minute pitch will help to direct the candidates who best fit your organisation to your interview lines. It's a fantastic way to promote your organisation and inspire people about careers and the industry in general.
The employer presentations set the scene and create and build the excitement of the day. Candidates feel your excitement and energy for your organisation and is highly influential in their decision to choose to meet you on the day or in the future.
You might like to include: Whats great about what your organisation does. What you are looking for in your employees. What pathway has your career followed.
To powerpoint or not? That is the question. If you do, make it brief. You should be able to tell your story in 3 slides. Remember you only have 3 minutes to impress the audience! If you don't have a powerpoint, your company logo will be on screen while you speak.
What is a Speed Profile?
Candidates will present you a standardised profile with basic details and a photograph. It has basic details and a photograph of the jobseeker. You will keep a profile for each person you interview and record who you have interviewed.
The profile will also contain the contact details of the employment and training provider who prepared the candidate to attend. You are free to contact the organisation to chat about any supports that you need to employ a candidate.
What is a Speed Interview?
Candidate will line up to meet you. It truly is a spectacular sight. You have 3-5 minutes to meet each candidate. It's a great way to search for those things you can't see on paper. It is well worth the preparation to define what you would like to get out of such a short meeting time. Past employers say that a quick scan of the profile and 2-3 prepared questions around soft skills or life skills is the best use of the time and the most efficient way to identify who they want to see again.
2nd Contact and Barriers to 2nd Contact.
We ask you to record who you think you are interested in contacting and if there were easy to address barriers for that person entering your recruitment process. eg. When they have/are able to ........... they should contact us again. This helps to feed information back to our employment and training programs to keep advising candidates about preparing for a career in disability.
It's not a commitment, its just an indication.
While we are on the topic, our most experienced employers have already set up there 2nd interview slots and book candidates in on the spot. Look around the room, they are your competitors and collaborators for the workforce of today and tomorrow.
Employer Profiles
We will gather most of the information we need via the registration page and will ask for a Logo to be emailed if you are a new employer. Candidates will receive an Employer Profile document that contains your organisations brief, logo and website so expect a spike in website visits before and after a Jobs Roadshow.
What to bring?
We will supply tables and chairs. You will need to bring your energetic recruiters and a freestanding banner so the candidates can find you. Bring water and snacks and organise enough staff so you can take take a break.
Jobs Roadshow Itinerary
8.00 - Bump In.
8.30 - Employer briefing
9.00 - Jobseeker briefing
9.15 - Employer presentations
10.00 - Speed Interviews
1.00 - Jobseekers exit. Data Collection, Industry discussion, Lunch.
2.00 - Pack up
Videos of past Jobs Roadshows
MatchWorks – Caboolture 7 August
https://www.youtube.com/watch?v=KU7ALyfMw5c
Griffith University Gold Coast showcase for student jobseekers: 30 April 2018
Combined source Toowoomba Jobs Roadshow on the news – 22 March 2018
https://twitter.com/7NewsToowoomba/status/976739384379625472
WorkAbility showcase for employers and jobseekers:
https://www.youtube.com/watch?v=3BD9JKPpZqc&feature=youtu.be
WorkAbility – 1 min promo
https://www.youtube.com/watch?v=TczFKImPGiY
How do you the Employer get ready for a Jobs Roadshow?

Employer Preparation
1. Complete Jobs Roadshow Employer Registration
2. Supply a copy of your organisations logo
3. Prepare a 2-5 minute presentation and send to WorkAbility QLD
4. Prepare and book your team for the Jobs Roadshow

Recruiters Attend Jobs Roadshow event
5. Bring recruiters, banners, brochures (we supply tables and chairs)
6. Bring water, snacks and enough staff to take breaks
7. Attend employer briefing
8. Conduct a 2-5 minute presentation (projector and screen available)
9. Conduct 3 minute Speed Interviews and collect Jobseeker profiles (15-60 per event)
10. Record jobseekers interviewed and identify progress/barriers to recruitment process (form supplied)
11. Submit data collection and participation paperwork (form supplied)

Employer Follow up
12. Follow up chosen jobseekers to progress in your organisations recruitment process (many employers pre-plan follow up interviews/group interviews)
13. Liaise with Jobseeker Host for applicable employment supports available.
14. Four week reporting to WorkAbility of jobseeker offers. Eg. Interview and/or Job Offer. (We will send a reminder).
FAQs
How can I contact the organiser with any questions?
Email natalie.palelei@nds.org.au with your question and contact details.