Red Dogs and Bushrangers, keynote address by Nelson Woss.
Description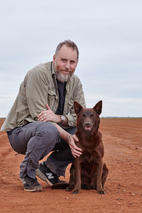 Join us for this magical evening that launches the 2017 Fremantle Heritage Festival.
Nelson Woss is one of Australia's most loved film makers. The man behind such award-winning features as Red Dog and Ned Kelly, his films draw on powerful human stories from Australia's past. His characters have been played by award-winning actors Heath Ledger, Naomi Watts, Orlando Bloom and Geoffrey Rush. Fresh from the release of Red Dog: True Blue, Nelson will combine story-telling and film to reveal what makes Australian history—and therefore our movies—so special.
We begin with Nelson's address at The University of Notre Dame Australia, and follow with a free screening of his iconic film, Red Dog, in Notre Dame's Drill Hall (tickets for the film are available separately).
Doors open from 6pm and seats are limited.
For more information, visit us at www.nd.edu.au.
Date and Time
Location
Tannock Hall
The University of Notre Dame Australia
corner of Croke and Cliff Streets
Fremantle, WA 6160
Australia