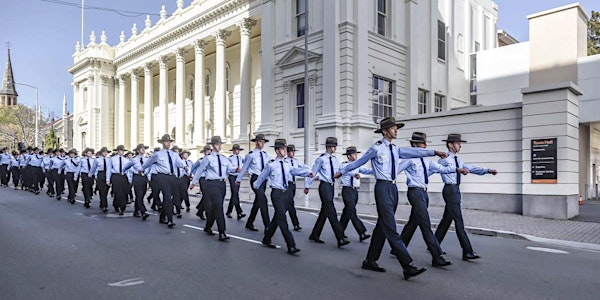 Recruit/Parent Open Night - Launceston - Australian Air Force Cadets
Location
Paterson Barracks
2-10 Saint John Street
Launceston, TAS 7250
Australia
Come learn more about the exciting youth development opportunities 508 Squadron has on offer. What will your cadet experience be?
About this event
Inspiring today, leading tomorrow.
508 (City of Launceston) Squadron Australian Air Force Cadets is hosting an open afternoon/night for our upcoming Term 3 recruit intake. We are open to any and all young people aged 12/13 up to 15 (with cadets ageing out at 18).
Located within our building at Paterson Barracks on Saint John Street, we welcome you to a tour of our training facilities, as well as a showcase of some of the hands-on experiences we provide.
This is aimed at curious parents and interested teenagers alike. Our staff are happy to give a run-down of what we do and are ready to answer any questions.
We will be open to guests from 1600hrs (4pm) until 2000hrs (8pm) so feel free to stop by after the school pick-up, or drop in later once you've had time to grab some dinner.
With a large focus on STEM integration through aerospace (aeromodelling, drones, flying experiences) as well as field skills (orienteering, survival, leadership) and a multitude of electives (drumming, first aid, fire safety) our cadets are never without something new to learn, create and have fun with.
Youth development is part of our core philosophy, by the time our senior cadets reach their ranks, they have the training to lead groups in the field and the confidence to advocate for themselves and others. The leadership skills they build and the connections they make here have helped our cadets throughout their time with us and far beyond into their future careers.
Here at 508 Squadron, we strive for equity and breaking down the barriers that can potentially stop young people from achieving their potential. We are an inclusive environment with a strict behavioural policy. Our training is suited to all types of learners and through our activities (field camps, mainland trips to RAAF Bases, air experiences, ceremonial events) we hope to give experiences to those who may have missed out otherwise.
Our staff have a diverse background in fields like education, support work, aviation, and a large number of them were cadets themselves! We also have multiple qualified Award Leaders for the Duke of Edinburgh Award (In fact, our Commanding Officer is the AAFC's DoE coordinator for Tassie!) facilitating our participants' ability to complete all necessary components through our activities.
Our official intake will begin on our first weekly parade night of Term 3, Thursday 28th of July. Even if you can't attend one of our information nights, please still feel free to submit an expression of interest/attend a parade night, as we're happy to have you.
Due to COVID-19 Restrictions and current AAFC policy we ask that you please register your attendance and that masks are worn while indoors, we can provide masks to those without them.
If you have any questions or concerns, don't hesitate to ask. We hope to see you there!
Date: Thursday 30th June 2022
Time: 4pm-8pm
Location: Paterson Barracks, 2 Saint John Street, Launceston, Tasmania.
To learn more about 508 Squadron, and the Australian Air Force Cadets, visit www.airforcecadets.gov.au/508sqn or email 508SQN@airforcecadets.gov.au