Recognition, Justice and Hope for Our Youth
Description
An Alfred Deakin Institute Public Policy Forum
The Uluru Statement's call for a 'First Nations Voice' in the Australian Constitution and a 'Makarrata Commission' to supervise a process of 'agreement-making' and 'truth-telling' between government and Aboriginal and Torres Strait Islander peoples puts a spotlight on a critical element in finding a way forward in one of the most profound, complex and enduring challenges facing modern Australia.
Without political, cultural and social recognition we will neither succeed in 'closing the gap' nor arrive at a true understanding of what it means to be Australian. Sustainable and just development in remote Australia, tragically high rates of detention, chronic poor health, youth suicide and endemic racism cannot be adequately addressed unless we face up to past and present injustice, a wilful ignorance of Australia's deep and recent histories, and the urgent need to face both difficult truths and perennially missed opportunities.
The situation is truly dire but it is not without hope. In the words of Justin Mohamed: "It's broader than justice …We are looking at the things that make our young people resilient."
---


Panelists
Adjunct Professor Muriel Bamblett Hon DLitt SW AO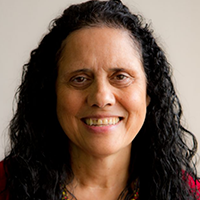 Muriel Bamblett is a Yorta Yorta and Dja Dja Wurrung woman who has been CEO of The Victorian Aboriginal Child Care Agency (VACCA) since 1999. She was also Chairperson of SNAICC, the peak body representing Aboriginal and Torres Strait Islander child and family services nationally, from 1998-2008.
A spirited and intellectual force for change, Muriel is driven by the desire to give children in out-of-home care 'a connection to culture - they have their Aboriginality, they have a genealogy, and they feel a connection to land.
Muriel has been the recipient of a number of awards, including the Order of Australia; Centenary of Federation Medal; Robin Clark Memorial Award for Inspirational Leadership in the Field of Child and Family Welfare; Women's Electoral Lobby Inaugural Vida Goldstein Award; and Victorian Honour Roll of Women. In 2009, she was made an Adjunct Professor in the School of Social Work and Social Policy La Trobe University. In 2017 Muriel was awarded an honorary degree of Doctor of Letters in Social Work by the University of Sydney in recognition of her outstanding contribution to Aboriginal child and family welfare.
Nayuka Gorrie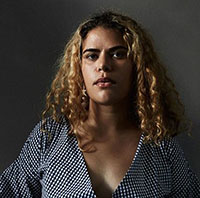 Nayuka Gorrie is a Gunai/Kurnai, Gunditjmara, Wiradjuri and Yorta Yorta freelance and comedy television writer. Nayuka's writing spans social commentary on black, queer and feminist politics to television writing.
Nayuka co-wrote and performed in the third and the upcoming fourth season of Black Comedy and provided additional writing on the second season of Get Krack!n and is currently writing for The Heights. Nayuka's writing can be found in The Guardian, Saturday Paper, Vice, Junkee, Archer Magazine, The Lifted Brow and NITV among others. Nayuka contributed to the anthology Growing Up Queer in Australia and is currently writing a book of essays as a recipient of The Wheeler Centre's Next Chapter initiative to support their writing.
Justin Mohamed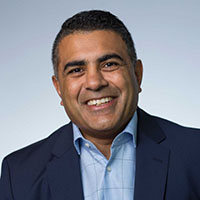 Justin Mohamed was recently appointed Victoria's Commissioner for Aboriginal Children and Young People. Commissioner Mohamed is a proud Aboriginal man of the Gooreng Gooreng nation near Bundaberg in Queensland.
He has dedicated the past 25 years to working towards building a stronger and healthier nation for Aboriginal and Torres Strait Islander peoples. He worked with Victorian Aboriginal communities for 20 years before being elected Chairperson of the National Aboriginal Community Controlled Health Organisation (NACCHO).As NACCHO Chair, Justin was a strong advocate for the rights and self-determination of Aboriginal people and fights for the recognition of more than 150 Aboriginal community controlled primary health services as key to closing the appalling gap between Aboriginal and non-Aboriginal health outcomes.
Moderator
Prof Jon Altman
From February 2016 Jon was a research professor at ADI, he is also an Emeritus Professor at the Australian National University's RegNet: School of Regulation and Global Governance. His research engages with questions of social justice and human rights for minority groups globally. More particularly, he examines issues of appropriate economic development and associated policy for Indigenous Australia; hybrid economy theory and practice; and the economic engagement of Indigenous people with Australian and global capitalism.
Light refreshments will be served from 5:30pm, with the panel starting promptly at 6:00pm.
This event is proudly co-hosted by the Institute of Koorie Education at Deakin University.