Event Information
Location
Booderee National Park
Village Road
Jervis Bay Territory, ACT 2540
Australia
Description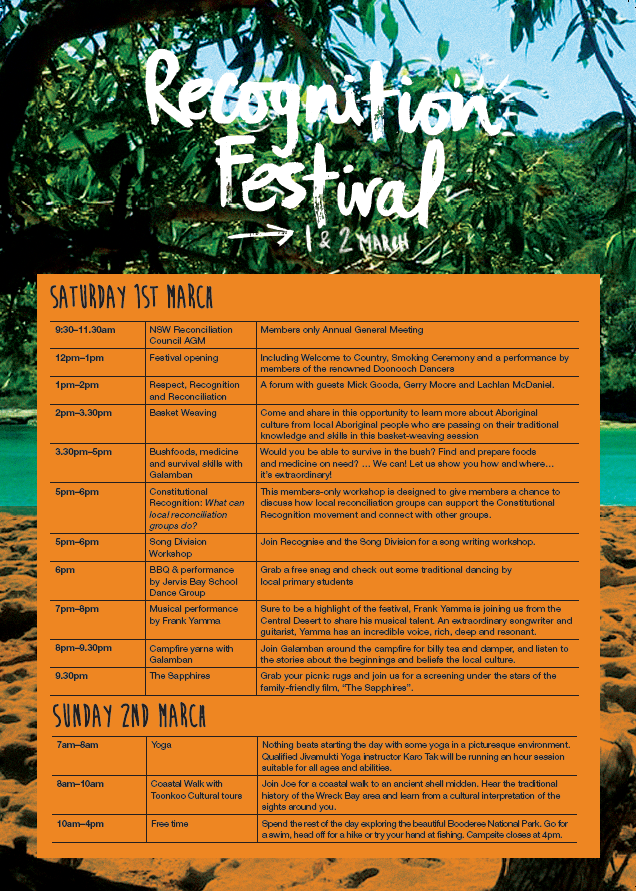 THIS EVENT IS NOW SOLD OUT

Join us for the 2014 Recognition Festival, to be held over the 01st and 2nd of March 2014 in the stunning surrounds of Booderee National Park in the Jervis Bay region of South Coast NSW.
The two-day festival is a cultural gathering that will provide a cultural immersion experience through story telling in a variety of formats- oral, written, visual arts and music; including traditional practices, all centred on the theme of constitutional recognition of Aboriginal and Torres Strait Islander Peoples. The event is facilitated by the NSW Reconciliation Council in collaboration with the Wreck Bay Aboriginal Community (http://www.wbacc.gov.au/), along with the support of Recognise, Amnesty International Australia and the Australasian Performing Rights Association.

Speakers at the festival include Mick Gooda, Gerry Moore and Lachlan McDaniel and we have been lucky enough to secure Frank Yamma (http://www.youtube.com/watch?v=DQFPwt9Lu1I) as a musical guest. Other events scheduled include campfire yarns, early morning yoga, film screenings and Dreaming stories. The final program will available closer to the date.
FAQ
Are there any buses?
We have a bus leaving NCIE in Redfern at 6.30pm on Friday the 28th of Feb, returning on Sunday the 2nd. Seats are free but limited so make sure you register quickly! To reserve your seat, purchase your festival ticket and then email marlesha.havea@nswreconciliation.org.au with the numbers of seats you need.
What time can arrive on Saturday the 1st?
Bristol Point will be open for festival-goers from 8.30am on the 1st of March. Make sure you bring ID, your ticket and concession card (if applicable).
What time do I need to leave on Sunday the 2nd?
All ticket-holders must leave Bristol Point by 4pm. Please leave your campsite the way you found and it and take all your things with you.
Is camping included in the ticket price?
Yes, camping at the Bristol Point Campsite in Booderee National Park is included in the cost of your ticket. If camping isn't for you, you are welcome to stay in other accommodation in the local area. Feel free to contact info@nswreconciliation.org.au for a list of alternative accommodation options.
Is food available for purchase at the festival?
Food will not be available to purchase at the festival so we recommend you bring all the food you will need with you. There are free BBQs for your use throughout the campsite and a general store nearby in the park. There are also supermarkets and food outlets in Nowra and nearby sounds.
Is Recognise Festival 2014 a licensed event?
No, Recognise Festival 2014 is a strictly drug and alcohol free event. Anyone found to be bringing in alcohol, intoxicated or under the influence of drugs or alcohol will be asked to leave the park.
Do I need to bring a print out of my ticket with me?
Yes or alternatively you can bring a screen shot confirming your ticket purchase on your smartphone.
I bought a ticket to the Festival but can no longer come. Can someone else go in my place?
Yes. If someone else is taking your ticket, you must email addie.walsh@nswreconciliation.org.au with the name of the person who will be using your ticket before 4pm on the 28th February 2014.
Can I get a refund if I can't find someone else to take my ticket?
In most cases, no refunds will be given. Decisions on refunds will be made on a case-by-case basis by emailing addie.walsh@nswreconciliation.org.au
What do I need to bring?
Everything you need to camp! Tents, mattress, pillows, sleeping bags, walking shoes, thongs, towels, bathers, toiletries, insect repellent, sunscreen, food, comfortable clothing and a yoga mat or towel (if you are keen to give yoga a go!). The temperature can drop significantly at night so please make sure you bring warm and waterproof clothing. Don't forget your camp chair and picnic rugs for our movie night! Please make sure you bring a torch as the campsite will not be lit during the night.
Booderee National Park looks amazing! Will I have any time to explore it?
Absolutely! We really encourage everyone to stay for the Sunday and enjoy the amazing surrounds. The festival will finish up shortly before lunchtime on Sunday to give you time to bushwalk, swim, snorkel and surf before you head home. For more information about the park and the activities you can do, check out http://www.parksaustralia.gov.au/booderee/plan/itineraries.html
How do I get there?
Check out http://www.parksaustralia.gov.au/booderee/plan/getting-here.html for information on transport options and routes.
Wreck Bay community members and Traditional Owners interested in attending the Festival, please contact Aunty Wendy or us directly via info@nswreconciliation.org.au or 9562 6355.
Date and time
Location
Booderee National Park
Village Road
Jervis Bay Territory, ACT 2540
Australia