Recalibrating for the New Reality of International Education - ACBC Vic
The Australia China Business Council Victoria (ACBC Vic) invites members and friends to a timely virtual industry roundtable
About this event
International education was once Australia's fourth-largest export industry, but revenue is down 26% on the record high of A$37.7 billion in 2019 and is expected to trend lower. Significant loss of revenue and jobs in the education and other related sectors poses serious immediate and future challenges for the economy and to the sustainability of the international education sector which has contributed in major ways to Australia over decades.
To address this critical topic, ACBC Vic is delighted to host this special roundtable discussion with key speakers including Professor Pascale Quester (Swinburne University VC & President), Kurt Mullane (Acting Executive Director of International Education at the Victorian Department of Education), Councillor Davydd Griffiths (City of Melbourne Education and Innovation Portfolio Lead) and Frances Coppolillo (CEO of Melbourne Polytechnic).
The virtual roundtable and interactive Q&A will be moderated by Professor On Kit Tam (RMIT; Vice President, ACBC Victoria and Chair of ACBC Victoria Education & Training Working Group), and concluding remarks by Dr Celina Yu (General Manager, Edvantage Institute Australia).
Some of the issues the speakers will address:
Are Australian universities ready to restore the significant role of international education – a key contributor to their recent development success, and to the economy and society of Victoria and Australia?
What short- and long-term strategies could the education sector implement to deal with the current challenges?
Where can the Victorian Government help providers of international education regain the lost market?
How will the revival of the CBD, including new infrastructure projects make Melbourne/Victoria even more attractive to international students?
EVENT DETAILS
Date: Thursday 23 September 2021
Time: 12:00pm – 1:30pm AEST
Platform: Zoom - Virtual Roundtable
ACBC Members: FREE
General Admission: $45 (+GST+BF)
SPEAKERS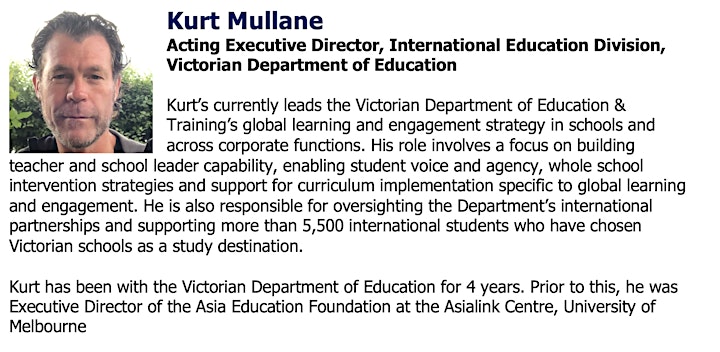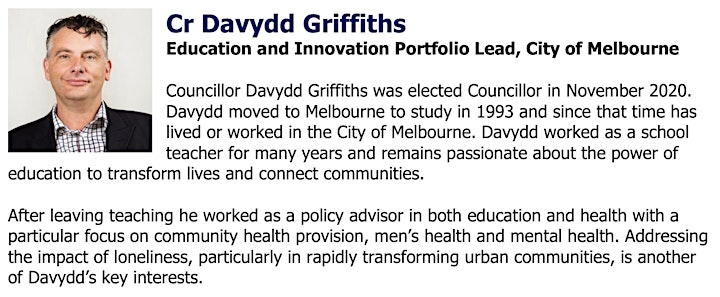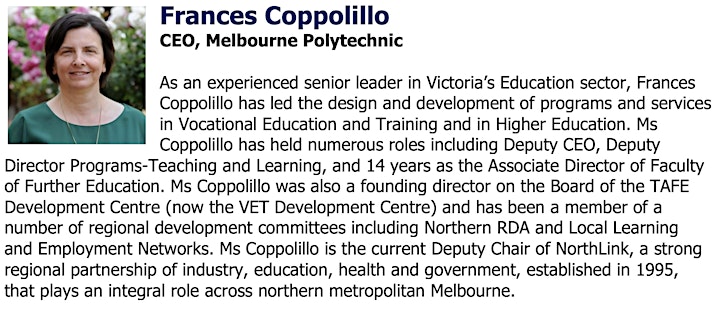 This event is proudly supported by

Your membership will be cross-referenced prior to the event.
Registration will close one hour before the event starts or when sold out.
The Zoom link will be sent to the email you register with before the event in a separate email. Please check your junk folder.
This online event will be recorded.
Any queries please contact zach.eggleston@acbc.com.au
Organiser of Recalibrating for the New Reality of International Education - ACBC Vic
Founded in Victoria in 1973, the Australia China Business Council (ACBC) is a membership-based, non-profit, non-government organisation comprised of a National Office, eight state branches, and more than 1500 representatives from over 1200 Australian and Chinese companies.
ACBC actively promotes two-way trade and investment, economic cooperation and understanding between the business communities of Australia and China. ACBC also plays an influential role as an advisor to the Australian Government on commercial relations with China.
ACBC Victoria is one of the largest, most vibrant and diverse business councils in Australia. With over 300 company members and more than 3500 friends and associates. ACBC has close links with Chinese officials and expatriate groups, and provides regular business-focussed activities and events for our members across the country. In 2019, ACBC hosted 65 events for our members, attracting over 3600 participants.