Rebel School: Security Culture & Digital Privacy for activists
Sales Have Ended
Ticket sales have ended
Please remember the time listed is AEST 630PM start, so 430PM for west coast. Get in contact if there are particular issues you'd like to see covered.
Sales Have Ended
Ticket sales have ended
Please remember the time listed is AEST 630PM start, so 430PM for west coast. Get in contact if there are particular issues you'd like to see covered.
This session will outline steps activists; of all levels of experience, can take to increase the safety of their group and keep info private
About this event
Are we really spied on? By who? How? What do we do to keep ourselves safe?
These are popular conversations for activists and non government organisations.
The answer is yes AND...
Our work building for positive social change, racial justice and a safer climate is monitored by a range of people.
This doesn't mean we should stop what we are doing, or batten down the hatches and only organise with people we have known since birth who have declared a blood oath.
It does mean should think about what we call "security culture" - which is simply a set of practices that we use in activist groups to minimise unwanted intrusion and exposure. And it also means that ALL of us need to up our game with some basic tools for digital privacy.
In this last Rebel School of the Air session for the year we will discuss
* Decolonising tech - our co-presenter Kat will lead a discussion on what this means, and how we can make organising spaces better for First Nations people
* Security Culture - what is it, and how do we practice it well
* Brief case studies of known practices by corporate and police spies in Australia
* Risk and threat analysis - reality check on how risky your groups activities are, who might be interested in them, and how constrained you want your organising to be on a spectrum between open and closed
* Digital privacy - what are some of the basic tools we can use to minimise risk in our communication with each other, and in our digital organising spaces
We will also find what you want more of, as this will be only a brief summary of these issues - and we can plot out some sessions for next year based on your needs, or your group may want a dedicated session.
Tickets are essential - you will receive the Zoom link THE HOUR BEFORE THE EVENT to minimise disruption.
***
Trainer/facilitator Nicola Paris from CounterAct has nearly 20 years of experience dealing with the challenges of groups who want to organise discreetly and are participating in civil disobedience, however it is well known in activist circles that police and corporate infiltrators seek intel from all types of groups, no matter their activities - part of state surveillance over reach.
She has worked in closed and open groups and those that use a mix of both. Along with Action Skills and a small group of other activists she is trying to encourage grassroots organisations to build better security culture and digital literacy around communication channels.
We are excited to introduce our co-presenter - Kathryn Gledhill-Tucker is a product manager, analytics specialist and all-round geek building tech on unceded Whadjuk Noongar boodjar. She is a digital rights activist serving on the board of Electronic Frontiers Australia, who campaigns for online privacy and believes increasing technical literacy in our wider community will keep us from falling into dystopia.
CounterAct supports activists with training and resources, and has provided resources on these topics for many years.
This is part of our trial series of Rebel School of the Air online workshops. We will be rolling these out more regularly in 2021 after consulting with membership on their needs.
***
Aboriginal people are always welcomed to our events at no cost. We pay respects to the Traditional Custodians, on whose land this event takes place. Sovereignty was never ceded.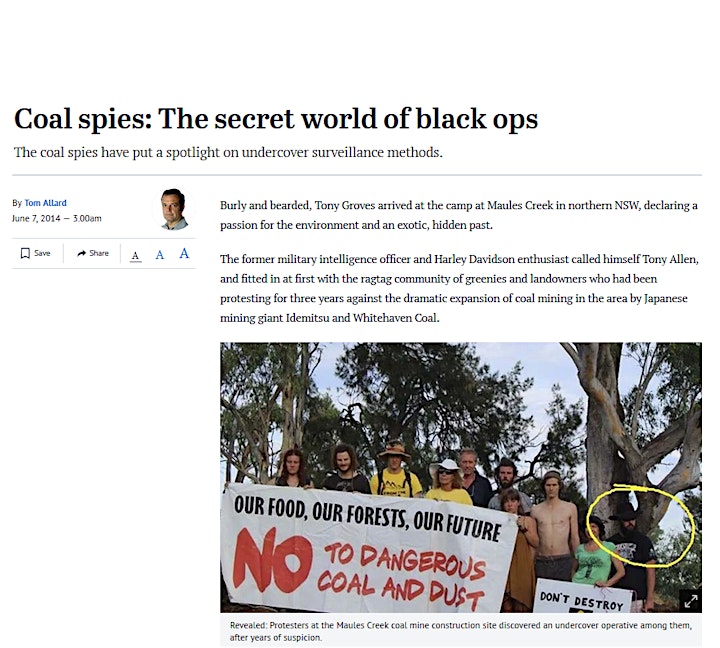 Date and time
Location
Refund policy
Organiser of Rebel School: Security Culture & Digital Privacy for activists
CounterAct was launched to build capacity in communities taking effective, creative, strategic action on issues of environmental and social justice.
Coordinator and trainer, Nicola Paris has nearly twenty years' experience in community campaigning and civil resistance, and has had wide knowledge on participating in, and training for direct action across the country.

She supported the successful campaign against the Kimberley gas hub, and to protect the Beeliar Wetlands in WA, has trained and supported at climate camps on the east coast, supported major climate justice convergences at the Maules Creek coal mine in NSW, coordinated the facilitation for Break Free - the largest climate focused direct action in Australia's history - with 2000 people shutting down Newcastle coal exports for a day, and has run workshops for the Wilderness Society, Quit Coal, Lock the Gate, Australian Youth Climate Coalition, 350.org, Centre for Australian Progress, United Voice, the East West tunnel picket and refugee rights campaigns.