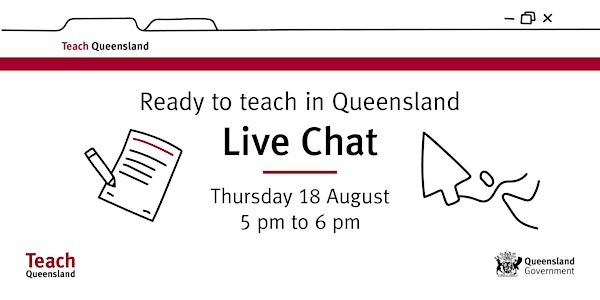 Ready to teach in Queensland (Application for employment process)
Join the Teach Queensland team for a free Live Chat to discuss opportunities for employment with the Queensland Department of Education.
About this event
Join the Teach Queensland team to find out everything you need to know about how to secure your first teaching role in a Queensland state school..
This Live Chat will cover topics including:
teacher registration
when and how to apply to teach in a Queensland state school
what evidence of skills, qualification/s and experience you should provide in your application, and
how to register for relief/casual teaching opportunities in Queensland state schools.
Speakers:
Regan Kelly, Human Resource Consultant, Department of Education
Sabra Manttan, Manager, TRACER Team, Department of Education
Shannon Taylor, Principal Registration Officer, Queensland College of Teachers
Who should attend this Live Chat?
experienced and early career teachers seeking employment in Queensland state schools
current applicants for teacher employment
preservice teachers looking to secure their first teaching job.
How to join the session:
register for the Live Chat
you will receive an email with instructions on how to download and access the Live Chat platform, the day prior to the Live Chat
join in the conversation on the scheduled date. Come prepared with questions!
To participate in the Live Chat you will need:
access to a device that has a speaker
a strong internet connection, and
a quiet location.
Places are limited so register early to secure your spot!
We hope that you can join us.
Want to stay up to date with all Teach Queensland events and news? Subscribe now.