Sales Have Ended
Registrations are closed
Thank you so much!! Have a good day!!
Sales Have Ended
Registrations are closed
Thank you so much!! Have a good day!!
About this Event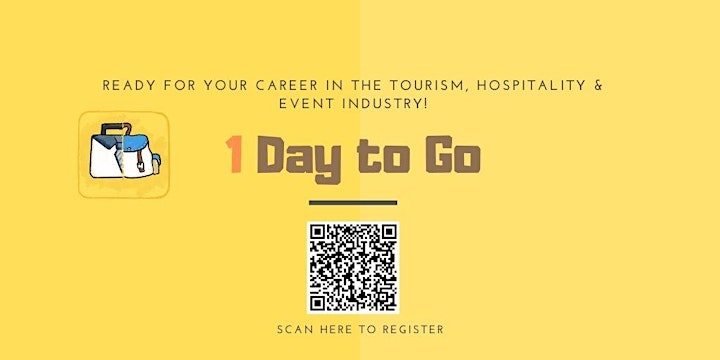 Date: Thursday, October 15, 2020
Time: 3:00 pm -4:30 pm (BNE time)
Platform: Zoom cloud meeting
Slogan: Get prepared before graduating
Form: Zoom live streaming workshop
Vision: Enhance the employability for UQ THE students
Mission: Help UQ THE students prepare better for their job hunting
Goals:
To explore individuals' career potential
To provide students with networking opportunities
To provide students with a clear career direction
To provide advice for students' queries
Run Sheet
3:00 pm - 3:20 pm
Introduce event agenda, sponsor, speakers, and attendees
3:20 pm - 4:00 pm
MC ask questions and speakers share their ideas with audiences
4:00 pm - 4:05 pm
Lucky draw session (2nd & 3rd prize)
4:05 pm - 4:15 pm
4:15 pm - 4:30 pm
Invite attendees to finish the satisfaction survey
Lucky draw to pick up the 1st prize
4:30 pm - 4:35 pm
Answer further questions and help the attendees with further requirements
Event Overview:
Ready For Your Career in the Tourism, Hospitality & Event Industry is a 90 minutes experience-sharing online workshop that aims to help enhance the employability for TH&E students at the University of Queensland.
The event offers a career guide for inexperienced students through speaking by industry professors, excellent alumnus, and employability specialists from the TH&E industry.
Because of the COVID-19 outbreak, the government has restricted the hosting of mass gatherings and long-distance travel, which is a big blow to the TH&E industry.
By bringing together these speakers, the event will see the discussion of tips to increase competitive advantage as well as the impact of the current pandemic – COVID-19 on the TH&E industry, hoping to help TH&E students prepare better for their job hunting.
On top of these, the event would build networking opportunities and social engagement for students to explore their career potential.