Description
The Roscoe Library has a book club, Reading with Spiritual Eyes, based on works of fiction. You're invited to join with us as we discuss our book for Term 4 2019, You Will Be Safe Here by Damian Barr.

For catering and set-up purposes, please let us know if you're planning on joining us by registering (via this site). We are looking forward to another interesting book chat!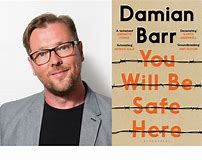 What? Book chat
Where? Roscoe Library
When? Tuesday 26 November 5:30 pm - 7:00 pm
How? Facilitated discussion / Drinks & nibbles provided
Who? Eve, Kay ... you?
The book that will change the way you see the world.

2010. Sixteen-year-old outsider Willem just wants to be left alone with his books and his dog. Worried he's not turning out right, his ma and her boyfriend send him to New Dawn Safari Training Camp. Here they 'make men out of boys'. Guaranteed.

1901. The height of the second Boer War in South Africa. Sarah van der Watt and her son are taken from their farm by force to Bloemfontein Concentration Camp where, the English promise: they will be safe.
*****
Alfred Hickling wrote a review of You Will Be Safe Here for The Guardian, while Deena Dinat's review was published on rabble.ca. The Lonesome Reader also wrote about this book.
*****
Still wondering whether to read this? Here are some other comments ...
"Completely gripping and profoundly moving – you care for every character. Each of the very different stories is deeply affecting and they're woven together in such unexpected and powerful ways. Barr handles the most difficult material with the lightest touch" – MAGGIE O'FARRELL
"The harsh poetry of the land anchors the text, its red earth stretching out beneath starlit stillness, unchanging from generation to generation … By its end, so many instinctive responses will have been upturned that the reader will be left with just two certainties: that the circularity of man's cruelty to his fellow human beings is endless, and that only kindness is stronger" – OBSERVER