Description
The Roscoe Library has started a book club, Reading with Spiritual Eyes, based on works of fiction. You're invited to join with us as we discuss our book for Term 3 2017, A Man Called Ove by Fredrik Backman.

For catering and set-up purposes, please let us know if you're planning on joining us by registering (via this site). We are looking forward to another interesting book chat!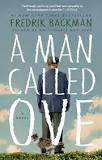 What? Book chat
Where? Roscoe Library
When? Tuesday 12 September 5:30 pm
How? Discussion facilitated by Susan Pietsch / Drinks & nibbles provided
Who? Susan, Eve, Susan, Kay, Jonathan ... you?
"At first sight, Ove is almost certainly the grumpiest man you will ever meet. He thinks himself surrounded by idiots - neighbours who can't reverse a trailer properly, joggers, shop assistants who talk in code, and the perpetrators of the vicious coup d'etat that ousted him as Chairman of the Residents' Association. He will persist in making his daily inspection rounds of the local streets.
But isn't it rare, these days, to find such old-fashioned clarity of belief and deed? Such unswerving conviction about what the world should be, and a lifelong dedication to making it just so?
In the end, you will see, there is something about Ove that is quite irresistible..." - Publisher's description.
" ... I simply adored this book. Backman's writing is clean and simple, at times deceptively so, with its gentle, episodic and occasionally repetitive structure. The story is laced with loneliness, with life's numerous disappointments and the great grey weight of the real; the last chapters deliver some unexpectedly savage emotional blows. But this is tempered with a sense of quiet celebration.

A note of hope threads through the writing, building slowly, and the small details as much as the grand narrative delight and move: the moments of connection, the reawakening of a man frozen by grief, the ability of people to touch one another's lives.

This is a MUST READ. It will resonate with everyone." – Lynda, http://www.goodreads.com/book/show/18774964-a-man-called-ove