Sales Have Ended
Registrations are closed
You have successfully registered for our webinar on Ransomware Attacks. Login details will be emailed to you 3 days prior to the event. We look forward to you joining us.
Sales Have Ended
Registrations are closed
You have successfully registered for our webinar on Ransomware Attacks. Login details will be emailed to you 3 days prior to the event. We look forward to you joining us.
Not if but when! Ransomware attacks are on the rise. Learn about the new threats, how best to respond, insurance and proposed new laws
About this event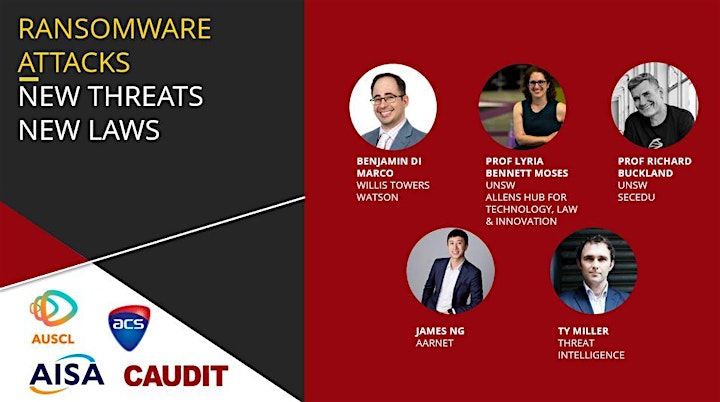 Ransomware attacks: Are you prepared?
New Threats, New Laws and Australia's Multi-billion Dollar University Sector
Brought to you by the AUSCL, CAUDIT, AISA and ACS this event is not to be missed by business leaders, lawyers, policy makers, CISOs and cyber specialists looking to navigating the growing threat of ransomware attacks.
In this live webinar you will gain expert insight into:
New and emerging ransomware attack techniques
Threat prevention and response
Proposed Australian laws requiring the reporting of ransomware payments
Recent case studies
Insurance
Practical tips in managing risk and liability
with a particular focus on the multi-billion dollar Australian University Sector which has been subject to a number of recent high profile attacks.
Meet your speakers
Moderator: Richard Buckland UNSW Professor in Cybercrime, Cyberwar and Cyberterror. He is the Director of SECedu Cybersecurity Education Network, a partnership between UNSW and the Commonwealth Bank. Richard is the Grand Challenge Visiting Professor in Cybersecurity at Taylors University and Visiting Professor at the National University of Malaysia (UKM). Richard was Director of Education of the Australian Centre for Cyber Security, Director of the Australian Computer Society Professional Education Governance Board, Chair of the ACS Education Academic Board, and a Fellow of the Institute of Actuaries of Australia. He is the UNSW Director of First Year student experience and a long serving member of the UNSW Academic Board and numerous other UNSW governance bodies. He serves on the governance and advisory boards for a number of education institutions.
Benjamin Di Marco leads Willis Towers Watson's Australia and New Zealand cyber and technology risk team providing insurance, assessment and consulting services to domestic and international clients. Ben has over 13 years of legal and advisory experience specialising in cyber risk, privacy, technology law, financial insurance and dispute resolution in Australia and San Francisco. He has acted in over 200 data breaches providing triage, privacy, strategic and claim support to companies. Ben is the National Cyber Risk and Governance stream leader for the Australian Society of Computers & Law and their Queensland Chair. He also sits on the Privacy and Data Law Committee for the Queensland Law Society, and is a regular guest lecturer at the Queensland University of Technology.
James Ng is AARNet's (Australia's Academic & Research Network) General Manager, Security Operations responsible for supporting the build and then on-going operation of AARNet's Security Operations Centre (SOC) as well as leading Security Governance, Risk and Compliance activities. Previously, James was a leader in Telstra's Cyber Security Governance, Risk and Assurance team responsible for implementing and operationalising cyber security risk management maturity through business partnering, engagement and security compliance activities (including PCIDSS and ISMS/ISO27001). During his time at Telstra he was also seconded to their digital-only challenger brand Belong to lead their information security function.
Lyria Bennett Moses is Director of the Allens Hub for Technology, Law and Innovation and a Professor in the Faculty of Law and Justice at UNSW Sydney. She is also co-lead of the Law and Policy theme in the Cyber Security Cooperative Research Centre.
Ty Miller is the Managing Director of Threat Intelligence (https://www.threatintelligence.com) who are specialists in the area of security automation, penetration testing, incident response and specialist security consulting. He is the visionary for the world's first Security Automation Cloud, Evolve (https://evolve.threatintelligence.com), that delivers on-demand specialist security capabilities to reduce security costs whilst increasing security capabilities. Ty is on the Black Hat Asia Review Board and is a long-term trainer for Black Hat, having run training with Black Hat for over 10 years across Black Hat USA, Black Hat DC and Black Hat Europe. He has also presented multiple times at Black Hat USA, Black Hat Asia, Black Hat Webcasts, Hack In The Box, and Ruxcon, whilst also having developed the Core Impact Pro covert DNS Channel for Core Security and is a co-author of "Hacking Exposed Linux 3rd Edition". Ty is on the CREST ANZ Board of Directors.
Organiser of Ransomware Attacks - New Threats, New Laws
Inspire. Connect. Reimagine
The Australian Society for Computers and Law (AUSCL) is one of Australia's leading interdisciplinary think-tanks on issues arising at the intersection of technology, law and society. It is a registered Australian non-profit charity with a charter to advance education and advocacy. Our mission is to: Inspire new thinking and informed discourse, Connect professionals across disciplines and together Reimagine the future.