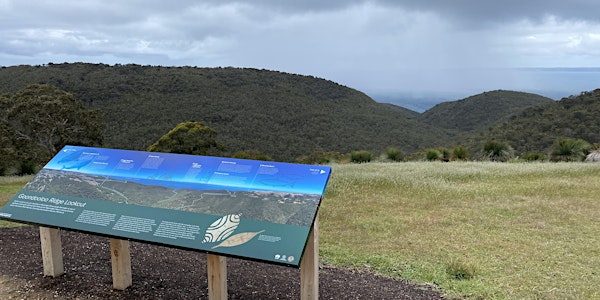 Ranger-guided accessibility walk to the new Goondooloo Ridge Lookout
You're invited to celebrate International Day of People with Disability with us at the new Goondooloo Ridge Picnic Area and Trail
About this event
Join our rangers to check out the new accessible Goondooloo Ridge Trail and Lookout as we celebrate International Day of People with Disability.
Take in the spectacular views across Backstairs Passage and The Pages Islands to Kangaroo Island. On a clear day you can even see South Australia's oldest lighthouse at Cape Willoughby on the eastern most point of Kangaroo Island.
Deep Creek National Park is home to a vast array of wildlife and it is likely you will get to enjoy a colourful variety of birds and see many kangaroos grazing along the way to the Lookout.
At the end of the event, a free sausage sizzle lunch will be available provided by the District Council of Yankalilla and the Yankalilla & District Lions Club at the new Goondooloo Ridge Picnic Area. Non-alcoholic beverages will be available for purchase.
TrailRider Wheelchair
The District Council of Yankalilla has kindly made their TrailRider Wheelchair available for this event. The one-wheeled chair is a cross between a wheelbarrow and sedan chair and allows people with limited mobility to explore national parks.
The TrailRider requires a minimum of two reasonably fit people (one at each end of the chair) to control and guide it. Depending on the trails you wish to travel and the strength and level of fitness of your helpers, you might need up to four fit helpers. The chair is motorised, making it easier to explore some steeper and longer trails.
There is one ticket available to hire the chair for this walk.
View more information about the TrailRider Wheelchair.
What ability is required?
This is an inclusive event for all.
The Goondooloo Ridge walk is 4.2 km return and gently meanders down a hard compact gravel trail with no obstacles to the Goondooloo Lookout. The walk back up has a slight incline which people in wheelchairs may require assistance. The trail is also suitable for prams.
There are two accessible drop toilets available at the picnic area (left hand and right hand). The walk will take around 2 hours to complete and there are no toilets along the trail. There is no seating until the lookout at the halfway mark (2.1km).
What should I bring to the event?
Enclosed shoes
Personal sun protection (hat, sunscreen, sunglasses)
Drinking water (minimum 1 litre per person)
Snacks
Camera
Binoculars
Personal medication
Where
The activity will take place in Deep Creek National Park and depart and return from the newly built Goondooloo Ridge Picnic Area.
Deep Creek National Park is located 103km south of Adelaide, near Cape Jervis.
The picnic area is located on Blowhole Beach Road, Deep Creek. Car parking is available at the picnic area, including two accessible car parks.
Will I be safe?
Our Park Rangers have a current first aid certificate and will be carrying a first aid kit. There is mobile phone reception where the activity will take place. Please advise any particular health concerns that may be relevant.
All current SA Health requirements regarding covid-19 will be required to be followed during the event. This particularly applies to check-in with QR code or manual check in sheet, maintaining 1.5m distance from other people not in your household group. While a mask is not mandatory, we understand if you have a need to wear one.
What's the cancellation policy?
The event will only be cancelled in the case of extreme weather or safety hazards (e.g. severe weather warning, total fire ban). If the event is cancelled you will be notified by 8pm the evening prior - by the e-mail you used to register and by text message to the mobile number recorded with your ticket registration.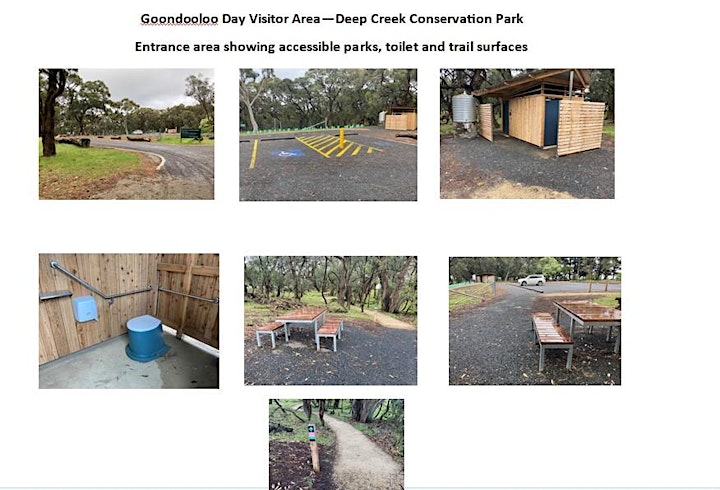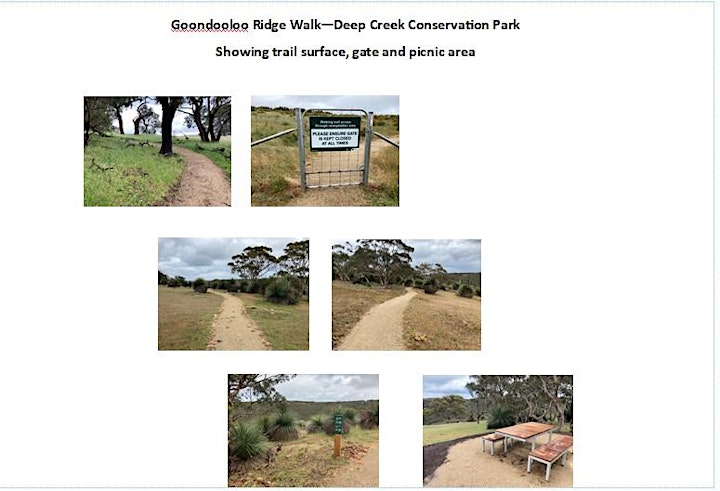 Organiser of Ranger-guided accessibility walk to the new Goondooloo Ridge Lookout
National Parks and Wildlife Service South Australia is the home of South Australia's most inspiring natural places.
From seemingly endless red sand dunes to rugged mountain scenery, sandy beaches, diverse bushland and cherished picnic and camping grounds, South Australia boasts an extensive and comprehensive parks system.
Parks encompass more than 20 percent of the state and offer a wide range of experiences. Whether you want to take it easy on a local walking trail, cuddle a koala, fish magnificent beaches, dive with sharks or sleep under the stars, there's an adventure for everyone.