Learn how to build a rally car from scratch, then come and sit in the passenger seat when we take it testing.
About this event
This is a unique opportunity to learn about every aspect of how a car works, how it is put together and identifying weak spots and other areas that can affect reliability. And then get to ride in it when we take it testing .
How does it work?
You arrive at our workshop.
We give you a safety briefing and explain our tools and equipment.
Then you join in as we do the work scheduled for that day.
There is a maximum of 2 attendees per session
Sessions are Tuesday evening, Thursday mornings and afternoons each week. Every second and fourth Saturday morning each month.
What work will I be doing?
The image below is how the car is now. Fully seam welded shell and integral roll cage. These are some of the key elements to turn that shell into a all singing, all dancing, forest rally car:
1. Identify weak spots in the chassis and suspension and strengthen accordingly.
2. Strip, check and rebuild the motor, gearbox, differential.
3. Examine and test all suspension and steering components.
4. Design and build wiring loom and fit instrumentation.
5. Fit new fuel tank, pumps and piping.
6. Install pedal box, hydraulic handbrake and piping.
7. Fit rally equipment – seats, belts, sump, tank and body guards, extinguishers, additional instrumentation, tripmeter.
Once completed we will have two testing days - one at a race track and one in the forest where we can strap you into the passenger seat and give you the ride of your life!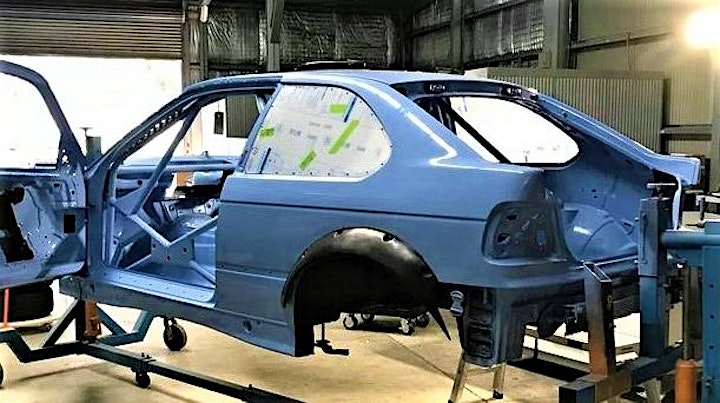 Conditions:
We reserve the right to refuse attendance to any individual and refund their ticket, less the ticketing costs.
Attendees must comply with the terms and conditions for entering our workshop. https://www.vcch.com.au/workshop-terms-and-conditions/
To qualify for the free joy rides, you must have attended 6 or more sessions.
Organiser of Rally car build drop-in classes and joy ride.
Founded in 2008 with 3 'Self-drive Sports Cars from the Swinging Sxties' in Sydney, The Vintage & Classic Car Hub now represents over 2,000 owners of vintage and classic cars.  Hiring their cars out for Corporate Drive Days; Self-drive Experiences; Joy Ride Experiences; Film and TV work and Commercial, Wedding and Formal photoshoots thoughout Australia.
From their workshop in Sydney, they run regular courses for existing and aspirational owners; project manage major restorations and promote classic car syndication.  They also hire out their workshop and equipment to more experienced owners.