Description
Overview
A large portion of the chicken meat we buy and consume through supermarkets and retail/wholesale butchers is intensively farmed. Definitions with regard to 'free range' are often unclear and although approved by authorities, you may be surprised how these approved standards lack a focus on the humane treatment of these creatures.
An ethical way to eat meat is to know where it is coming from and how the animals are treated both through their lives and in the butchering process. Sourcing meat locally and getting to know the farmer and butcher is one way. Another is to source meat through retail and wholesale butchers who sell organic produce where the standards for animal care are higher. Still another way is to raise your own animals for meat.
It can be confronting shifting from buying chicken that someone else has raised and butchered to doing it yourself. This workshop will offer you an overview of keeping meat chickens and will provide some examples of how to humanely butcher chickens and prepare them for the plate.
Is this Workshop for you?
This workshop is aimed at backyard chicken keepers who wish to grow their own chickens for meat. It is a beginner level workshop.
What you will learn:
In this workshop you will learn how to raise chickens for meat. Topics will include:
Appropriate meat chicken breeds for backyard growers
How to house and what to feed meat chickens
How to recognise health issues and what to do about them
Humane animal husbandry practices
How to get the most out of your chicken
Council and other authority rules and regulations for keeping meat chickens
Preparing a chicken for the table
In this workshop, you will also have the opportunity to watch an experienced chicken farmer humanely butcher a chicken.
The knowledge you will take away . . .
You will leave this workshop with a general overview of raising meat chickens. You will also have watched the process of humanely butchering a chicken and how it is prepared for the table.
Millen Farm would like to emphasise that this is an introduction to keeping meat chickens. You should not attempt to butcher a chicken yourself until you have the skills, confidence, appropriate tools and space to do this humanely. Should you choose to raise and butcher your own meat chickens following this workshop, we suggest working with a suitably experienced person to ensure that your treatment of chickens through the butchering process is efficient, safe and humane.
You will also meet other people interested in raising their own meat chickens. You may choose to stay in touch with some of these participants as a support network in moving into butchering for your own meat.
Presenter
Scott Luttrell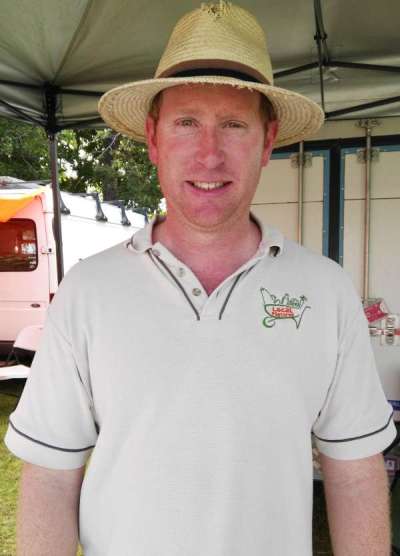 Scott Luttrell is the owner of Local Pastures, a family owned and run farming enterprise near Brisbane. Local Pastures specializes in the raising of meat chickens.
Scott has established food production systems that mimic nature in order to provide locally produced, high quality food whilst regenerating the land. His business offers you the connection of knowing your farmer and being assured that his animals have been produced without antibiotics, pesticides or GMO products.
Most importantly, Scott's business is focused on ensuring his chickens are raised and managed in a respectful and caring way from "Pasture to Plate".
Inclusions:
Morning tea
Workshop Notes
What you need to bring:
Hat
Sunscreen
Apron (if you want to participate in the processing of the chicken)
Paper/pen if you are an avid note taker!
FAQ
Do I have to bring my printed ticket to the event?
Yes, please bring along your printed ticket.
What is the refund policy?
Sometimes circumstances change and we understand that occasionally you may not be able to attend a workshop you have paid for, so unless other information has been specified on the individual workshop page and as long as we're notified 7 days before the workshop starts, your options are:
to receive a full refund of your course fee if we can find someone to take your place from our waitlist

to transfer your amount paid toward any future course

to transfer your ticket to a friend or relative
What does the waitlist do?
If the workshop sells out you can add your details to the event waitlist. In the event of a cancellation, we will look at our waitlist for the next in line. We will also use this to notify you of when/if this workshop will be held again, so please register your interest in advance.
How can I contact the organiser with further questions?
Need more information or have addition questions about the workshop? Please contact our Workshop Facilitator, Libby, at workshops@millenfarm.org.