Actions and Detail Panel
Raising Chickens for Eggs
Sun. 7 May 2017, 9:00 am – 12:00 pm AEST
Description
Overview
It is an unfortunate reality that chickens are still intensively farmed for eggs in Australia. Although approved by authorities, standards for keeping chickens in cages for the intensive production of eggs lacks even the most basic of humane standards. You may even have tried buying 'free range' and 'barn laid' eggs, but these definitions can be very deceptive.
You can help break this cycle by keeping your own flock to produce eggs. Chickens that are treated well will not only provide you with fresh eggs, but you will know what your chickens have been consuming. They are also amazingly entertaining and curious pets.
At a minimum, you will know that you have control over how your chickens are treated and ensure that they live the lives they deserve in return for supplying you with wonderfully, healthy eggs.
Is this Workshop for you?
This workshop is aimed at backyard chicken keepers who wish to have their own laying chickens. It is a beginner level workshop.
What you will learn
In this workshop you will learn how to raise and manage chickens for egg production. Topics will include:
Appropriate egg chicken breeds for backyard growers
How to house and what to feed egg chickens
How to handle your chickens
Do you need a Rooster?
Laying cycles
What are Council requirements for keeping chickens
How to recognise health issues and what to do about them
Routine care including worming
Pests around the chicken coop – rats, snakes, foxes, and other predators
How to get the most out of your chickens
The knowledge you will take away . . .
You will leave this workshop with a general overview of raising laying chickens and an understanding of how to keep them healthy and happy. This workshop focusses on keeping chickens in an environment where their welfare is paramount.
You will also meet other people interested in raising their own laying chickens. You may wish to swap contact details to build a network of like-minded people.
Presenter
Kate Velge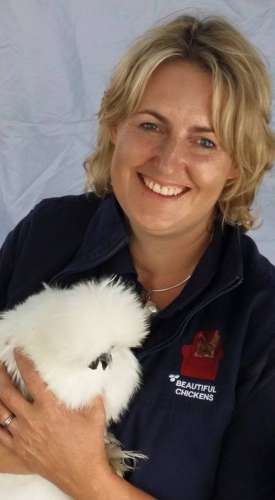 Kate is the owner of a local business, Beautiful Chickens. She began this thriving business in September 2012 and now sells a range of crossbred, farmyard bred and Heritage poultry from her Mt Samson farm or from her popular market stalls in the region. Kate prides herself in raising happy, healthy chicks and hens for lovers of heritage breeds. She also sells a range of poultry health products and accessories.
Inclusions
Morning tea
Workshop Notes
What you need to bring
Hat
Sunscreen
Paper/pen if you are an avid note taker!
FAQ
Do I have to bring my printed ticket to the event?
Yes, please bring along your printed ticket.
What is the refund policy?
Sometimes circumstances change and we understand that occasionally you may not be able to attend a workshop you have paid for, so unless other information has been specified on the individual workshop page and as long as we're notified 7 days before the workshop starts, your options are:
to receive a full refund of your course fee if we can find someone to take your place from our waitlist

to transfer your amount paid toward any future course

to transfer your ticket to a friend or relative
What does the waitlist do?
If the workshop sells out you can add your details to the event waitlist. In the event of a cancellation, we will look at our waitlist for the next in line. We will also use this to notify you of when/if this workshop will be held again, so please register your interest in advance.
How can I contact the organiser with further questions?
Need more information or have addition questions about the workshop? Please contact our Workshop Facilitator, Libby, at workshops@millenfarm.org.