About this event
The Urban Developer proudly presents an online course that explores the legal, financial and commercial aspects required of undertaking a capital raise for property development or investment.
Attendees will learn structures and concepts through case studies, checklists, do's and don'ts, and real-life experiences from experts and fund managers.
______________________________________________________________________________________________________
COURSE OUTLINE
1. Legal Structures and Risk Management
what are the different legal structures for capital raising?
what are the key risks and opportunities to consider?
what are Term Sheets, Subscription Agreements and Shareholder Agreements?
how do you manage your obligations to your investors?
how do you protect your existing business and personal assets?
Presenter: Liam Hennessy - partner, Gadens
2. Corporate Structures and Tax Considerations
what are the different types of debt and equity capital?
what are the various corporate structures and how do these differ?
what are the potential tax issues to consider for each?
how do different asset classes and projects relate to structuring?
what tax and corporate obligations do you and your investors incur?
Presenter: Sejla Kadric - associate director, Shinewing Australia
3. Funding Checklist for Capital Raising
how much should you pay investors and what sort of security should you provide?
what is the right mix of debt and equity for your project or investment?
what structures are viewed most favourably by bank and non-bank lenders?
how do you structure a capital raise that minimises the need for guarantees?
what is vendor finance, how is it structured and what are the pros and cons?
Presenter: Matthew Royal - director, Development Finance Partners
The presentations will be followed by an interactive Q&A moderated by Adam Di Marco, founder and CEO of The Urban Developer.
______________________________________________________________________________________________________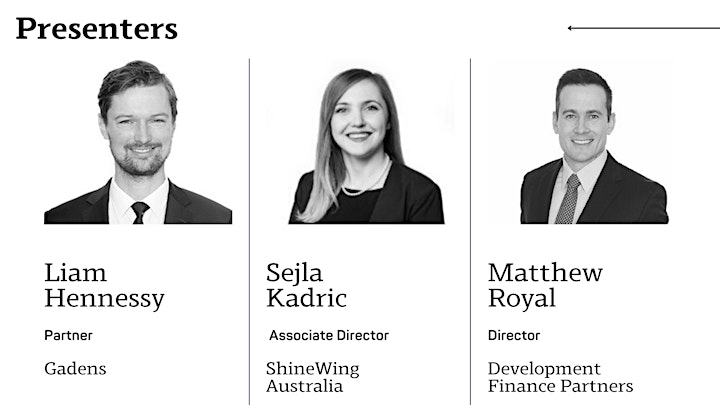 Who should attend?
property developers and investors
property investment managers
government and planning
business service providers
anyone else interested in property development.
______________________________________________________________________________________________________
Frequently Asked Questions (FAQ)
What about if I can't attend the workshop - Can I watch a recorded version?
Yes - register for the workshop and you will be able to view a recorded version of the webinar.
What if I am a corporate user and would like to watch with my team?
Great idea! We love it when corporate teams engage with us. Contact david.dimarco@theurbandeveloper.com directly to arrange access as a corporate user.
Do you provide discounted registrations for not-for-profit, community organisations or full-time students?
Yes - we absolutely do. Please contact david.dimarco@theurbandeveloper.com for further details.
Disclaimer
The Urban Developer cannot accept any liability or responsibility for loss occurring as a result of anyone acting or refraining from acting in reliance on any material contained in this presentation.
Organiser of Raising Capital for Property
The Urban Developer is Australia's largest, most engaged and fastest growing community of property developers and urban development professionals.
Our mission is to connect, inform and inspire property and urban development professionals by being the leading source of information, events and products to the industry.
Our vision is to grow a global network of people and businesses that are contributing to the development of smart cities around the world.
In doing so, we will empower our community to make better decisions about how to develop smarter and more sustainable cities.