Rains Retreat 2020: Free series of events from July - October
About this event
Each year the Buddhist Society of WA hosts a variety of events at our centre in Nollamara while our usual teachers, the monks and nuns, go on their own personal retreat.
This year, post social isolation, we are trying something a little different to boost a sense of community, friendship, positivity, well being, and most importantly, a bit of fun and play.
We are continuing our second month with more inspiring speakers and exploring different modalities such as Breathwork and Art Therapy.
Our sessions always start off with a guided meditation from 7:30-8pm to melt away the stress from your week so you can relax into your weekend. Or you are welcome to join us from 8-9pm for the main act.
For more events please follow us on Eventbrite or Facebook (search Dhammaloka events).
All are welcome.
Friday 7th August: Web of Kindness
Gen Kelsang Ani will be giving a teaching and guiding a meditation on the kindness and interconnectedness of all living beings, so that regardless of what our physical situation may be, we genuinely feel that wherever we look, we find only the kindness of others; that we are all interconnected in a web of kindness from which it is impossible to separate ourself.
It might sound like a tough ask in these days of pandemics and global strife, but reenergising ourselves by plugging into the kindness that is there, will help bring us back to balance so we can continue to heal ourselves and also be of benefit to others.
Like a piece of wood floating in a river that over time gets soaked with water and starts to sink, we also need to drift to shore and dry ourselves out with some sun and kindness.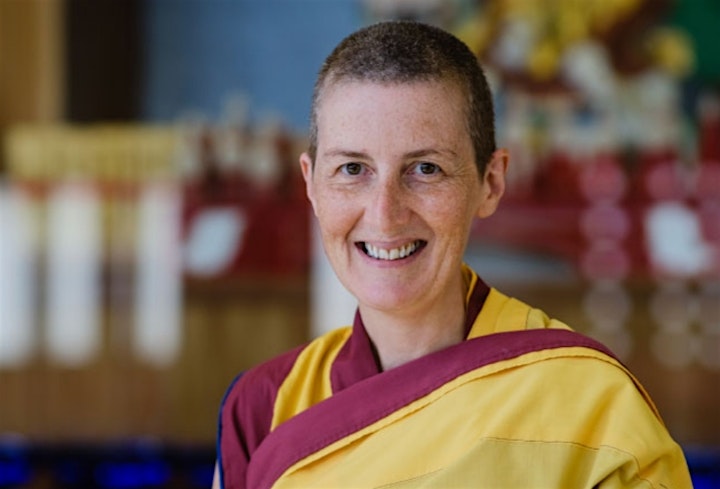 None
Gen Kelsang Ani is a fully ordained Australian Buddhist nun. She is the Resident Teacher of Kadampa Meditation Centre Perth. Gen Ani has been studying and practising Modern Kadampa Buddhism with Venerable Geshe Kelsang Gyatso Rinpoche for over 15 years. Ani teaches with warmth and compassion, making modern Buddhism accessible and applicable to all.
Organiser of Rains Retreat 2020: Web of Kindness