Join us for our series of hands-on workshops, learning to use R for data analysis. Come for one, or all of our mini-series.
About this event
Join us for a series of R workshops, aimed at beginner-advanced level R users. R is a powerful program for statistics and data science in high demand across almost every field of science. These workshops will provide a foundation in R programming as well as help build skills in efficient data manipulation and analysis. The contents of each course are outlined below.
Please note, the 'Beginner R' and 'Statistics in R' are each comprised of two parts. If you register for the 'Beginner R' workshop on June 8th, you MUST also register for the second half of this workshop on June 9th. Similarly, if you register for 'Statistics in R' on July 12th, you MUST also register for July 13th.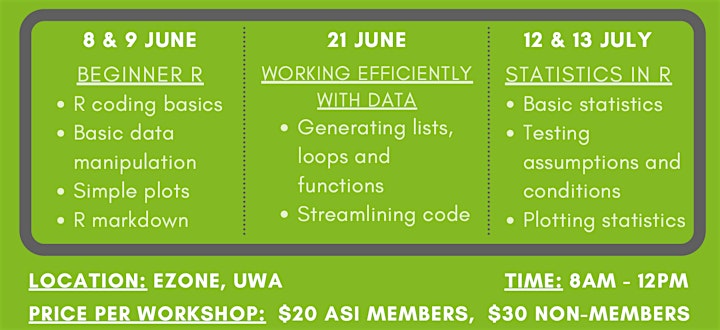 Hosted by the Australian and New Zealand Society for Immunology, these limited-capacity workshops will have an early-bird release for ASI members only before ticketing is opened up to non-members. If available, tickets for non-members will be opened one week prior to the workshops.
If you would like to join ASI for benefits including reduced registration fees and early-bird availability, please visit the website here.
Organiser of R Workshop Series
The purpose of the Day of Immunology is to strengthen public awareness of immunology as a basis for individual health and well-being.
Established in 2005 by the European Federation of Immunological Societies (EFIS), the success of Day of Immunology led to it being celebrated worldwide since 2007. Under the auspices of the Australian and New Zealand Society for Immunology (ASI), Day of Immunology has been celebrated around Australia and New Zealand.
For more information, please see http://www.dayofimmunology.org.au or email info@dayofimmunology.org.au