It's springtime. It's been a hard year. Let's celebrate our resilience. Come and relax at this FREE concert / picnic with Canberra Qwire!
About this Event
[ Important : Please read Covid-safe guidelines below. ]
It's time again for our end-of-year concert. It's been a hard year but we stay strong and we continue to support each other in this time of difficulty.
Qwire is very happy that we are able to sing for you this year! It will be a free concert in a relaxing picnic setting out in the park. We can enjoy the music and the company as spring moves on into summer.
Our theme this year is nature. We came up with this theme around this time last year, to acknowledge the UN's International Year of Plant Health 2020 and the world climate crisis. Little did we know then that this theme would become more and more relevant as the year progressed. Canberra still remembers the severe bushfire season with continuous heavy smoke and too many loss of lives and livelihood last summer. And then we were struck hard by the pandemic at an unforeseen level.
But we stay strong, and we continue to support each other. That's something we can be proud to celebrate.
Let's come together and share our positive energy. Reflect on where we have been and look forward with hope and love to our future together!
This event in held in a Covid-safe manner. Audience / picnickers are requested to check-in and maintain physical distancing and appropriate hygiene measures. (Please see below.)
We will be singing from the Rotunda and the audience / picnic area will be in the semi circle lawn as shown in the picture/map below. The best entry gates to come into the park are either City Gate (corner of Bunda and Akuna) or Abernathy Gate on Bunda.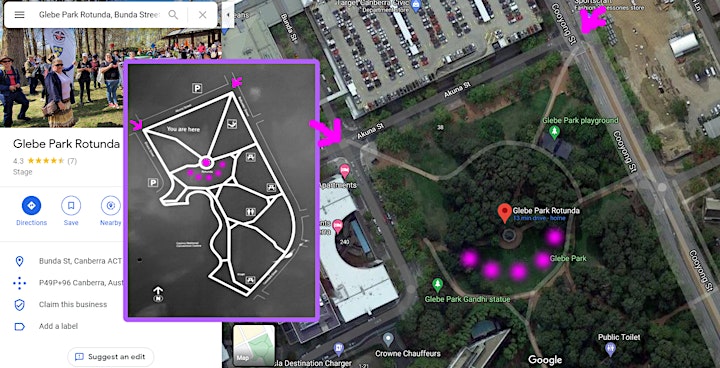 Covid-safe guidelines for Concert attendees
You need to register in advance so we can comply with the number limit set by ACT Government. Please bring your ticket with you (either printed or on the phone is fine) so we can check you in. (If you turn up not registered and we haven't reached the number limit, we will register you on spot.)
When you register, you will be asked to put in the names and the phone numbers of all participants. Please put in as much info as you can. We will also check you in when you arrive for the contact tracing purpose as directed by ACT Government.
There will be a single entrance and exit to our concert enclosure.
Please observe physical distancing at all times. Maintain 1.5 m distance, and no touching, hugging, kissing, or smooching. (Yep, that's tough. We will just have to do distance greeting for now.)
Bring your own food and drinks. No sharing outside your own friendship/family group, sorry.
Bring your picnic blankets or chairs. You have to be seated while eating or drinking. Friendship/family groupings should remain 2 metres apart. (Waterproof blankets would be good because the ground is often damp/wet in Glebe Park.)
Maintain personal hygiene at all times. Please cough or sneeze into your elbow. Hand sanitiser will be available for attendees.
If you feel unwell, please do not come.
Please follow instructions from our COVID Safety Officers at all times.
Please do not come to the concert if:
On the day you are feeling unwell with ANY of the following symptoms: flu-like symptoms including cough, sore/scratchy throat; raised temperature above 37.5 degrees Celsius; shortness of breath, loss of taste or smell, fatigue, runny nose, muscle pain, joint pain, diarrhoea, loss of appetite.
You have had ANY international travel in the last 14 days .
You have been in ANY Covid Hot Spot in the last 14 days.
You have been in contact with anyone who has been in a Covid Hot Spot.
You have had any contact with a confirmed COVID-19 case.
You are awaiting test results for COVID-19.
Thank you for your wonderful cooperation!

Wet weather
In the event of wet weather we will contact all those that have registered to advise if the event will proceed or be postponed.