QUT Distinguished Visitor Lecture: Why The Humanoids We Love Aren't The Rob...
Description
OVERVIEW
Why The Humanoids We Love Aren't The Robots We Really Want
Throughout history, humans have told stories of objects or machines coming to life and becoming humans. Sometimes it's good, sometimes it's bad, but always we've been fascinated by these 'other' humanoids. 21st century robots are already starting to look like humanoids and behave like humans, but is it going to be a happy ending? This presentation will explore some of the subtle problems associated with humanoid robots such as decreasing diversity and empathy, and increasing stereotypes and ethical dilemmas.
ABOUT THE SPEAKER
Andra Keay (Silicon Valley Robotics)
Andra Keay is the Managing Director of Silicon Valley Robotics, a non-profit industry group supporting innovation and commercialisation of robotics technologies. Andra is also founder of the Robot Launch global startup competition and a mentor and advisor to startups, accelerators and think tanks, with a strong interest in commercializing socially positive robotics and AI. Andra cofounded Robohub, the global robotics research news site, building on her background in film, television and media production, internet and computing technologies, with degrees in Interaction, Communication and Human/Robot Cultural Studies. Andra also cofounded Robot Garden, a robotics makerspace and teaches Interaction Design and Theory. Andra has a particular interest in understanding diversity and representation in robotics and AI and started the Women in Robotics community. Andra speaks regularly to international audiences on robotics/AI ethics, innovation, commercialization and interaction. You can follow Andra on Twitter @robotlaunch and @svrobo.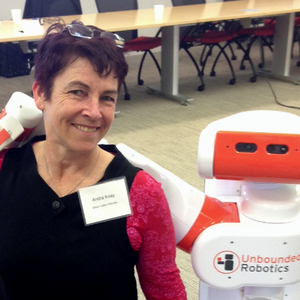 This lecture proudly supports Institute for Future Environment research on IntelliSensing, and precedes Robotronica on Sunday 20 August, QUT Gardens Point.