Quickies: Help with NSW's Service Provider Approval Process WEBINAR
About this Event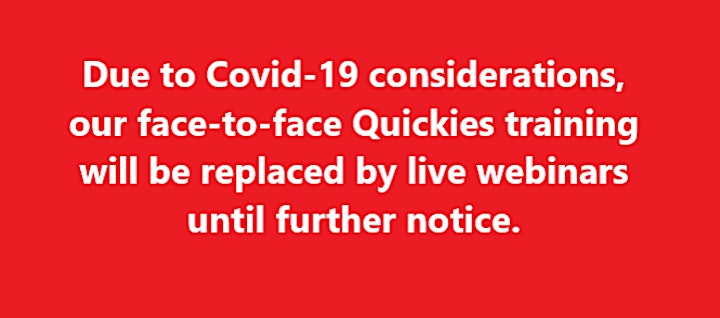 The Australian Childcare Alliance (ACA) NSW has put together a series of short but to the point presentations that help existing and new providers. The ACA NSW Quickies sessions are only 2 hours or less and held throughout the year. They bring Approved Providers, Owners, Directors and Educational Leaders with industry-specific information, advice, tips and even "tricks".
The 2020 series of ACA NSW's Quickies is:
Help with NSW's service provider approval process
Maximising & managing staff performance … LEGALLY
Secrets of the "new" A&R
Creating the best QIP/Self-Assessment Tool for the "new" NQF
Multiplying Success after your first Service – The foundational elements to replicate success
Flipping Childcare Centres
How to always be ready for spotchecks/compliance visits
How to ensure have best-of-class policies & documentation
How to design the best performing centres
Getting the CCS Application Process work for services and families
Help with NSW's service provider approval process
This ACA NSW Quickies session is designed for new and existing childcare providers, who want to better understand the service approvals process.
We will provide invaluable tips on what's involved, how to fill in the application, invaluable tips on what to expect and how to pass the scenario-based assessment.
Find out more about:
How to prepare for the NSW Approved Provider process
What is involved in the application process
What to expect from the NSW Department of Education during this process
What are the timeframes for approval
What tips are there to pass the scenario-based assessment

Find out more about:
The 2020 sessions are as follows:
Friday, 13 March 2020, from 10 am to 12 pm, in Parramatta (Sydney) NSW
Wednesday, 13 May 2020, from 6.30 pm to 8.30 pm, Webinar
Monday, 3 August 2020, from 10 am to 12 pm, in Parramatta (Sydney) NSW
Friday, 25 September 2020, from 10 am to 12 pm, in Parramatta (Sydney) NSW
Friday, 18 November 2020, from 6.30 pm to 8.30 pm, in Parramatta (Sydney) NSW
Ticket Prices
ACA NSW Members: $100 inc GST per person
Non-Members: $170 inc GST per person
Date and Time
Location
Refund Policy