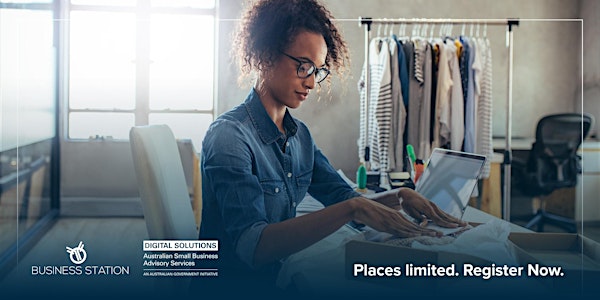 Quick Wins to improve Website Performance - better SEO results by Joff[WEB]
Sales Have Ended
Registrations are closed
Thank you for your registration to our ASBAS Digital Solutions Event.
Ifyou've been wondering why your website is not appearing in searchresults,or that visitors to your website are leavingwithout taking action
About this event
PLEASE NOTE: To register for this event you must be a business (0-19 employees)  and provide your ABN. 
This session will be recorded and sent to everyone who has registered. Register now!
Level :Intermediate
Date/Time:
Wednesday, 08 December 2021
WA: 03:00 PM to 04:00 PM (AWST)
NT: 04:30 PM to 05:30 PM (ACST)
QLD: 05:00 PM to 06:00 PM (AEST)
If you've been wondering why your website is not appearing in search results, or that visitors to your website are leaving without taking any action (resulting in a high bounce rate), you may have wanted to work out what on earth is going on. If you have spent any amount of time trying to work out how to find and resolve these issues, you may have spent some time in an internet vortex getting bamboozled by technical terminology and conflicting opinions. If so, this session is just for you!
In this session, we'll cover some of the key ranking factors that affect search performance, starting with a quick SEO audit to identify key issues, and looking at how to resolve some of the common issues that may be slowing down your website, affecting search performance. With a quick overview of the steps involved, knowledge of the free tools from Google you can use to find issues, and a willingness to TIMITI (Try it, Measure it, Tweak It) is all that's needed to triage your technical trauma and resuscitate your search presence – no defib necessary!
This workshop is brought to you by Business Station and AusIndustry under the Digital Solutions Program.
ABOUT PRESENTER
Our society is becoming ever more reliant on digital technologies, impacting our everyday lives, our communities and our businesses.
The only constant in this digital space is change, yet change can be difficult to achieve when faced with a complex, hybrid environment of technologies and tools.
Working alongside businesses, I help foster a greater understanding of digital and how to apply digital-led solutions, guiding best practice
and building digital capabilities to help businesses survive and thrive in the digital economy.
#Quickwins #SEO #SEOaudit
About Digital Solutions - Australian Small Business Advisory Services
Digital Solutions is one of the most generously supported digital transformation programs for small business by the Commonwealth Government. This iteration of the program has been run by Business Station in QLD, WA and NT for three years and has had a significant positive impact on the small business community.
This event will give you the chance to learn about the details of the program, what's on offer and who can access the free or highly subsidised support, training and resources! Perhaps you will find them beneficial for yourselves, your network or your clients.
To better understand what's on offer, we will encourage each attendee to register themselves to the program before the event, or otherwise by attending this workshop, you will be registered.
Important – Participating businesses must be aware that this information will be provided to the Commonwealth Department of Industry, Science, Energy and Resources for program evaluation and reporting purposes; and businesses may be approached by a representative from the Department to complete a survey on the services provided.