Following our sell out show to a roaring crowd last time, Queer Comedy is back with a new line up!
About this event
You'll be getting more laughs than colours in the rainbow because for the first time ever! Queer Comedy at The Royale Theatre featuring Ayden Doherty, Aves Robbins, Justin Sider, Alissia Marsh and Mickey J! Call the show Queer Royale. 5 acts go in, by the end maybe you come out!
This isn't your grandfather's barn dance! It's a queer comedy extravaganza! Better than any pyjama party and more exhilarating than the Avon descent! Yeah that's right, no one is safe! I'm talking to you plant warehouse festival!
DOORS 7:30pm
SHOW 8pm
Ayden Doherty
Five star, award winning veteran of Perth comedy. Ayden does things that nobody else is doing. "A tenacity and razor-sharp tongue that you must witness." OutInPerth.
Aves Robbins
Aves Robins is an up-and-coming stand up comedian. She is a regular writer for Ebsworth Tonight, and recently performed alongside Becky Lucas. Aves tackles issues of family, gender, sex and dating with the respect and forethought they deserve: absolutely none.
The MC: Justin Sider
Drag king Justin Sider has pelvic thrusted his way into the hearts of Perth's drag scene, smashing glass ceilings and charming audiences of all types. After a highly successful sellout FringeWorld debut with his solo show "Justin Sider is D!ckless" and making history as Perth's first King of the Court in the annual drag competition at the Court Hotel, he's bringing his charm, uniqueness, nerve and talent to our stage. If Justin Bieber, Magic Mike, and Mighty Mouse had a baby it would look a lot like Justin Sider.
The Headliner: Micky J
This home grown West Australian has traveled the world winning People's Choice Awards & People's hearts. A talent that has seen him perform at Melbourne International Comedy Festival, Sydney Comedy Festival, Edinburgh Fringe & Australia's Got Talent. Mickey J's perfection of mime, comedic musical timing & crowd interactions will take your breath away, while leaving the audience in stitches.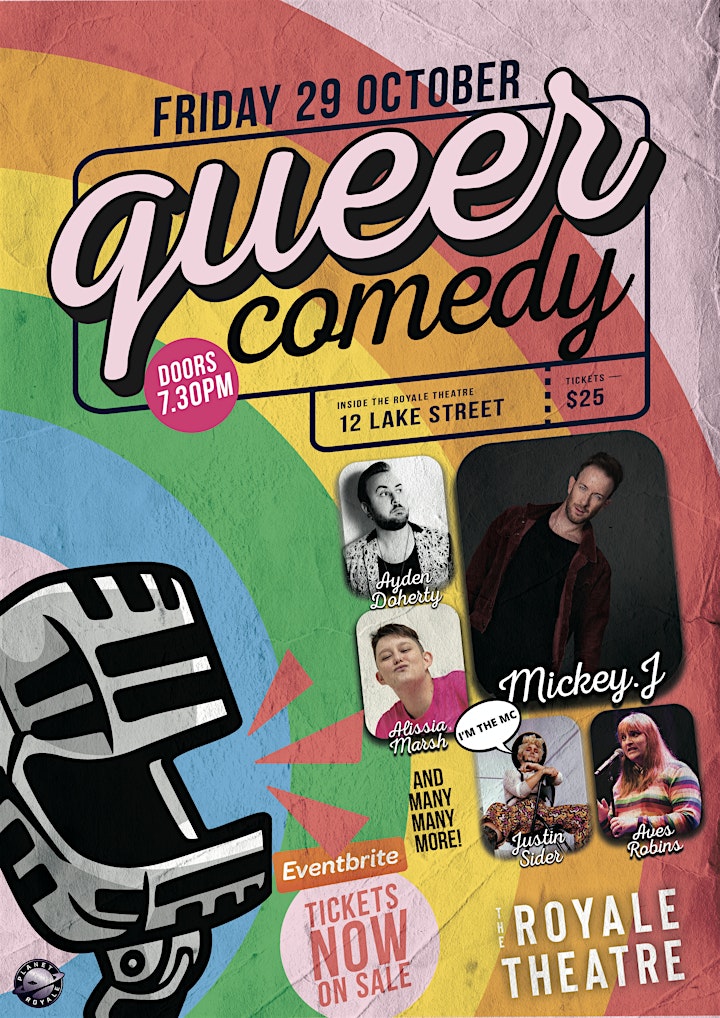 Organizer of Queer Comedy
A once purpose-built IMAX theatre, the Royale Theatre is now home to live entertainment, and boasts incredible sound and visuals, the most comfortable seats in Perth, and an in-theatre bar. The Royale Theatre is part of Planet Royale, where you can eat, drink, play and enjoy live entertainment all under one roof. Button mash with your mates on our vast array of retro arcades and marvel at arguably the GREATEST public collection of pinball machines in the whole of Australia. Re-spawn your soul and your stomach at Pulp Kitchen, where you'll find an epic food offering that would have even Vincent Vega drooling. Level up (quite literally) and indulge in a bespoke cocktail at Major Tom's, our cocktail lounge that oozes good vibes and good tunes, before catching a show in The Royale Theatre. Situated in the heart of Northbridge, Planet really is a one-stop entertainment destination! You are welcome to arrive early before your show to enjoy Planet Royale, or stay on after the show!
NOTE ABOUT VIP BOOTHS: For VIP Booths, you only need to purchase 1 ticket to buy a booth. VIP Booths seat 4 people per ticket, VVIP Booths seat 6 people per ticket.
NOTE ABOUT TICKET RESALES: Please note our tickets are only available for resale through TIXEL. Please do not accept ticket resales on any platform except Tixel, and please do not send anyone you don't know money for tickets, as they are most likely to be a scammer selling fake tickets.