A unique opportunity to listen and engage with First Nations accounting professionals on knowledge, culture and closing the gap.
About this Event
Join Griffith University at the Indigenous Accounting Forum where we bring together Indigenous professionals to share their perspectives in a virtual environment. Hosted with the support of Chartered Accountants ANZ and CPA Australia, we are live-streaming speakers, panels and Q&A sessions. This Forum is a unique opportunity to learn more about the importance of Indigenous culture and knowledge in the accounting profession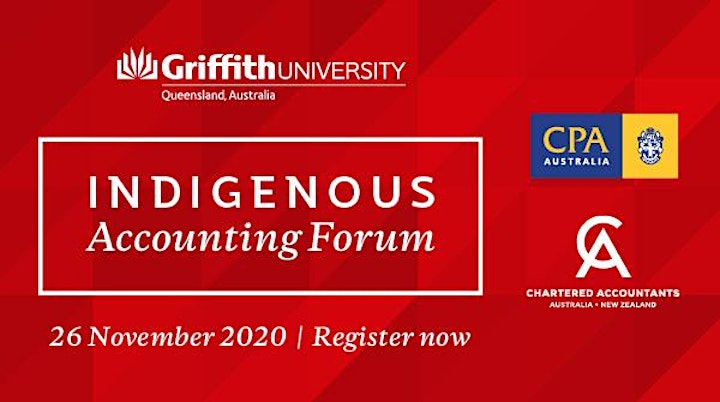 Forum Program*:
Please register to attend one or all sessions. Guests are welcome to move in and out of the Forum.
12:00pm – Opening and Acknowledgement of Country, Uncle John Graham
12:10pm - Welcome, Shane Drahm, Director Indigenous Engagement, Griffith University
12:15pm – Knowing, Being, Doing – Indigenous education in accounting – Dr. Kerry Bodle, Griffith Business School Aboriginal and Torres Strait Islander Academic Director
1:30pm – Panel – Indigenous Accounting Perspectives, chaired by Holly Martin, Indigenous Initiative lead Relationship Manager at CPA Australia
2:30pm – 30-minute break
3:00pm – Presentation by Leesa Watego, Director, Iscariot Media
4:00pm - Panel – Closing the Loop, chaired by Matthew Lancaster, Sector Manager - Aboriginal and Torres Strait Islander Community at Chartered Accountants ANZ
4:50pm – Closing Statement – Dr. Kerry Bodle
5:00pm – Forum ends *Subject to change.
Learning Outcomes:
Develop knowledge of Indigenous perspectives of the accounting profession;
Build critical awareness of the role of Indigenous education in closing the gap between Indigenous and non-Indigenous Australians
Meet our keynote speaker, Dr Kerry Bodle
Dr Kerry Bodle has been contributing to the ongoing development of research into First Peoples with the attraction of several research grants that have supported her work in areas including business failure, Aboriginal and Torres Strait Islander financial literacy, and business and education fields.
Dr Bodle has been active within the tertiary Indigenous education sphere with the first Indigenous business course at Griffith University, which is particularly relevant given the Griffith Reconciliation Action Plan and Griffith 2020 model recognising the ongoing need to attract and retain First Peoples higher degree students.
Dr Bodle's contributions to knowledge have increasingly influenced industry professionals, government policy-makers and educators around Australia.