Location
Victor Harbor Public Library
1 Bay Road
Victor Harbor, SA 5211
Australia
Sales Have Ended
Registrations are closed
Unfortunately this event has booked out or is closed. If you would like to be the first to know about our wonderful programs and events please subscribe to our email database: https://www.victor.sa.gov.au/library/subscribe
A showcase of local, self published authors! Enjoy the variety and inspiration behind each presentation and written work.
About this event
Quarterly Writers' Collective - June
Join us to celebrate three amazing local authors as they present their latest releases.
Each author will present their works for 20 minutes followed by a 10 minute Q&A.
We are excited to introduce the following authors;
John Weeks - Living Without Fingerprints; A Point in Time
Susie Williams - Rural Business Women; Inspiration and advice to grow your business from regional Australia
Christine Sinclair (Grandmother Christine) - Self publish on a shoe string budget and launching 'As Above So Below; Understanding Feng Shui'
Further details on each presentation below...

Living without Fingerprints is an inspirational photobiographical memoir of how life changed within an instant for John Weeks. In May 2014 John's life changed within an instant when a petrol explosion while driving his car resulted in near fatal burns to seventy-five percent of his body.
Following a month in an induced coma in Royal Adelaide Hospital he was the worlds first burns surviving recipient of a revolutionary new medical technique that was ten years in development. After awakening from his coma John endured around fifty operations and remained in a quarantined burns ward for six months before embarking on a painful twelve-month rehabilitation process required to regain independence. Much of the inspiration has been drawn from not only lessons John has learnt but drawing upon strengths from a wide range of people.
Living without Fingerprints brings a range of emotions from horror to humour which are all part of dealing with trauma. Each chapter has a photograph from his travels (of which some will be presented on the evening) around the world which is impeccably incorporated into the message. John hopes that his inspirational story will give optimism and new direction to anyone impacted by trauma.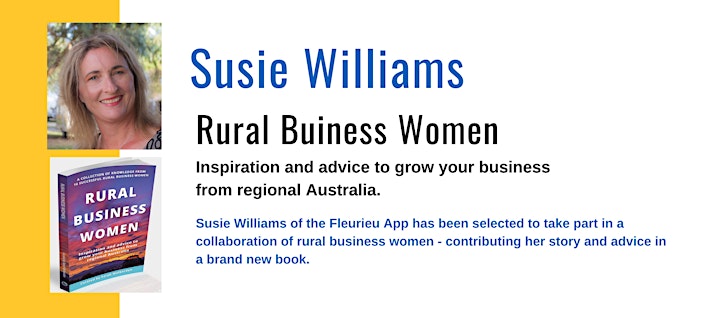 Rural Business Women – Advice and inspiration to grow your business from regional Australia aims to inspire and offer advice to other rural women who are thinking of or have already started, a business from a rural, regional or remote area of Australia.
This book will be the first of its kind, that specifically focuses in on the emerging army of women who are starting and growing successful businesses outside the usual larger capital cities.
Susie hopes that by sharing her advice, she can provide encouragement and support to other rural businesswomen who have the dream of creating their own business empire from the bush.
Her chapter is 'Keeping the business woman alive - reinventing yourself' will provide attendees with her tips and guide to resilience and reinventing yourself in our ever changing world.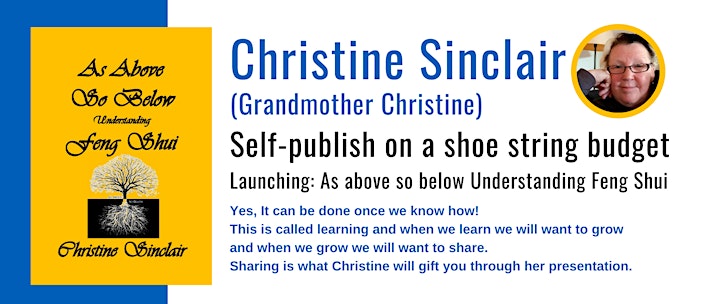 Grandmother Christine, who is a self-published author in every sense of those words.
Always creating and always scared of what this world would think of her, till now. With an acute sixth sense, she sees and shares what most never will in their lifetime.
Christine has self-published six books for children, with many books still tucked away in her computer. Each one shares a slice of life, living in Fleurieu Peninsula.
To challenge herself she has been enjoying writing a series of books that will enlighten many. A rainbow collection of stories and information. To enrich and support those that choose to understanding their own intuition. There are four books in this series so far.
Now that she has found her true identity Christine would like to support others in finding theirs.

Be the first to know about our events!
Subscribe to the Victor Harbor Library
If you would like to be the first to know about our wonderful programs and events please subscribe to our email database: https://www.victor.sa.gov.au/library/subscribe
Our Programs
Please arrive within 10 minutes of the session start time.
Limited bookings are available. If you are unable to attend, please let the library know in advance so others can join in.