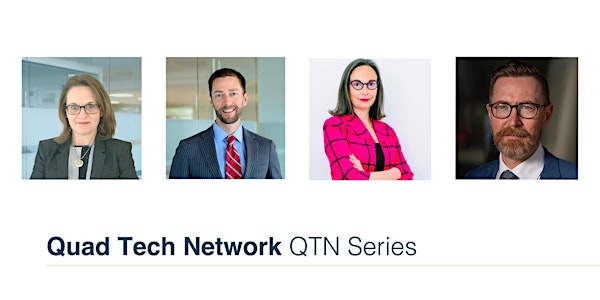 Quad Techno-Diplomacy in the Indo-Pacific | QTN Series: In Conversation
Quad Techno-Diplomacy in the Indo-Pacific with Lisa Curtis, Martijn Rasser, Rory Medcalf and Johanna Weaver
About this event
The ANU National Security College is delighted to present this online event to explore the ideas put forward in Lisa Curtis and Martijn Rasser's recent paper, from the ongoing QTN series.
In their paper, Lisa and Martijn from the Center for a New American Security argue that the Quad has an opportunity to shape the telecommunications ecosystem in the Indo-Pacific so that key 5G and undersea cable infrastructure are more secure, resilient and open. The authors recommend that a concrete techno-diplomatic strategy – developed in partnership between Australia, the United States, India and Japan – will be key to ensuring that the future of the Indo-Pacific is free and open.
Lisa and Martijn will join Rory Medcalf and Johanna Weaver in conversation at this event to discuss their analysis and recommendations, and take questions from the audience.
This webinar is free and open to the public; however, registration is essential. It will be delivered over WebEx. Please click here to familiarise yourself with the system and check your access.
Martijn Rasser is a Senior Fellow and Director of the Technology and National Security Program at the Center for a New American Security (CNAS).
Prior to joining CNAS, Mr. Rasser served as a senior intelligence officer and analyst at the Central Intelligence Agency, where he worked on foreign emerging technologies, technology innovation, and weapons research & development. He also served as a senior advisor in the Office of the Secretary of Defense. Upon leaving government service, Mr. Rasser was Chief of Staff at Muddy Waters Capital, an investment research firm. More recently, Mr. Rasser was Director of Analysis at Kyndi, a venture-backed AI startup in Silicon Valley.
Lisa Curtis is a Senior Fellow and Director of the Indo-Pacific Security Program at the Center for a New American Security (CNAS). She is a foreign policy and national security expert with over 20 years of service in the U.S. government, including at the NSC, CIA, State Department, and Capitol Hill.
Her work has centred on U.S. policy toward the Indo-Pacific and South Asia, with a particular focus on U.S.- India strategic relations; Quad (U.S., Australia, India, and Japan) cooperation; counterterrorism strategy in South and Central Asia; and China's role in the region. Ms Curtis served as Deputy Assistant to the President and NSC Senior Director for South and Central Asia from 2017-2021 under three successive National Security Advisors.
Professor Rory Medcalf is Head of the National Security College at The Australian National University. Professor Medcalf's professional background spans diplomacy, journalism, think thanks and intelligence analysis, including as founding Director of the International Security Program at the Lowy Institute from 2007 to 2015.
Professor Medcalf has been recognised as a thought leader internationally for his work on the Indo-Pacific concept of the Asian strategic environment, as articulated in his 2020 book Contest for the Indo-Pacific (released internationally as Indo-Pacific Empire).
Associate Professor Johanna Weaver is Director of the Tech Policy Design Centre at the Australian National University. Ms Weaver is a former Australian diplomat, a reformed commercial litigator and an unapologetic international law nerd. In June 2021, she completed her term as Australia's independent expert and lead cyber negotiator at the United Nations. Earlier, Ms Weaver led the Cyber Affairs Branch at the Australian Department of Foreign Affairs and Trade, working closely with Australia's inaugural Ambassador for Cyber Affairs.
Ms Weaver is a member of the International Committee of the Red Cross (ICRC) Global Advisory Board on digital threats during conflict. She is also a regular guest lecturer at the Australian National Security College.
Organiser of Quad Techno-Diplomacy in the Indo-Pacific | QTN Series: In Conversation
As a joint initiative between the Commonwealth Government and The Australian National University (ANU), the National Security College (NSC) is unique, serving as a meeting place for policy, academia, industry and the wider community.
Led by Professor Rory Medcalf, the College combines the independent academic expertise and reputation of the ANU with special arrangements of trust, access and security-cleared engagement with the Australian Government.
In an era of increased disruption and complexity, the work of the NSC is more important than ever.