Join us for the Qld Resources Industry's 2021 Lead Indicators Workshop!
About this event
The Queensland Resources Council and the Commissioner for Resources Safety and Health, proudly presents the 2021 Queensland resources industry's lead indicators workshop.
Date | Tuesday, 30 November 2021
Time | 9am - 3pm
Attend In-person | Queensland Parliamentary Annexe - Premiers Hall, 2A George Street, Brisbane City. Please bring along proof of identification for registration to the event.
Attend Online | If you wish to attend online, please advise when prompted in your registration form. A link will be emailed to you before the workshop to join the session.
Leading health and safety professionals working in Qld's resources sector are invited to attend an upcoming Lead Indicators Workshop, which is being held to fill the gap created by the Covid-related postponement on the 2021 Qld Mining Industry Health and Safety Conference.
The workshop will focus industry attention on leading practice approaches to health and safety across Qld's resources sector and will feature an impressing line up of expert presenters, followed by a workshop themed 'Future focus areas and practical takeaways'. Excitingly, the workshop will be facilitated by internationally renowned health and safety executive, Christian Young.
Limited in-person spaces available, book now!
Program: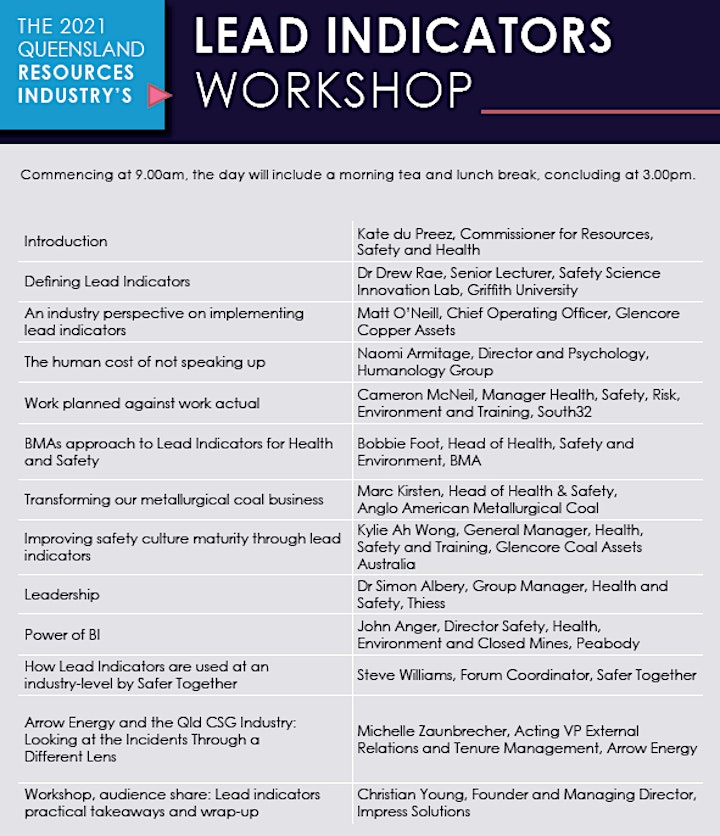 Presented by:

Covid-Safe Plan:
Our priority is always the safety and wellbeing of our members and guests.
QRC is working closely with the venue to ensure that social distancing can be maintained and facilities and equipment have been properly sanitised. Attendance numbers will strictly adhere to government guidelines for Queensland.
In line with government advice we request people that are unwell with cough or fever or other respiratory symptoms do not attend. We also ask that you follow government advice and maintain social distancing by refraining from shaking hands or exchanging physical greetings, and wherever possible, staying at least 1.5 metres away from others.
QRC will continue to closely monitor government advice regarding public gatherings and will follow all relevant health advice from the Australian government in relation to Covid-19.
Film and Photo Consent:
You may be photographed/filmed while attending this event. The images and videos may be used, published or reproduced in any form (in whole or in part).
If you have any issues regarding the photo consent, please email us info@qrc.org.au.
Organiser of Qld Resources Industry's Lead Indicators Workshop