Description
Operational Excellence Rt (OERt)
CIWG Topic: Management of the Skills Matrix
This CIWG is proudly being hosted by SIRF Rt Member:

The CIWG topic in detail:
A skills matrix is a visual tool that identifies the key skills needed in each department and then recognises our team members and their level of competency against these skills.

A good skills matrix can start the conversation about each person's confidence with the tasks needed. From here, a training plan can be created to cross train your team members, providing job variety and a robust team that can still perform at the same level, even when people are away.
A skill matrix focuses conversations on how work is completed and the basic skills needed to complete the required tasks.
A skills matrix also helps new team leaders by clearly indicating who has the skills to carry out a job correctly and whether they are competent to do this unsupervised or if they need assistance.
In this common interest workgroup, we will investigate:

How do you identify the key tasks?

How do you encourage job rotation?

Levels of evaluation

Presentation of the matrix. Should it be on display?

How the Skills Matrix provides Quality assurance
SIRF Roundtable's Common Interest Workgroups (CIWG's) are an excellent forum for networking and engaging in 'peer to peer' learning with other SIRF Rt Members. To get the most out of the event you need to attend the CIWG with a willingness to contribute to group discussions.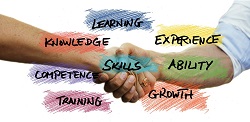 ---



---

Who should attend?
This event is ideal for Operations, Production and maintenance professionals, CI professionals responsible for delivering results and Training and Human Resources


Is the event catered?
A light morning tea and lunch will be provided by the host site.
If you have specific dietary requirements, please notify the event organiser at least 10 days prior to the event otherwise we cannot confirm your needs will be catered for.


Are there any special requirements for this site I need to be aware of ?
An email will be sent to all registered attendee's at least 7 days prior to the event to confirm attendance and to provide all event information including parking and PPE requirements.
**Do not 'unsubscribe' from Eventbrite emails otherwise you will NOT receive critical event information


Investment?
As a member of SIRF Rt you can register up to 2 people, subject to availability, to attend this event.
This event is for SIRF Rt members only, there will be no general public access to this event.


When do I need to register by?
Registrations close 10 day prior to event date.
Registrations are based on a "first come, first served" basis.
There are no allocated seats with membership.


What if I can no longer attend and need to cancel my registration?
Seats are limited at all events, so if you are registered and are unable to attend please notify the event organiser as soon as possible with the details of who within your organisation is attending in your place. If there is no replacement from within your company, we will contact members on the 'waitlist'.


Who can I contact for further information?
Hannah Watts | hannah.watts@sirfrt.com.au | 0436 449 713