Description
Operational Excellence Rt (OERt)
CIWG Topic: How Do You Lead Change?

This CIWG is proudly being hosted by SIRF Rt and Arnotts: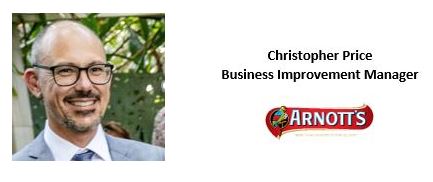 "The only constant in life is change"- Heraclitus
When we are compelled to change ourselves, we will have a high degree of control over the result.
However, our working lives are rarely that simple; Change of a product, process or system involving other stakeholders, gets significantly more complex.
The more successful enterprises follow a strategic 'change roadmap' and in June 2020 we are excited to be running this workshop on how businesses lead change.
Arnott's is a very successful operation that has undergone (and is in the middle of) significant change and we have the pleasure of having Christopher Price, Business Improvement Manager at Arnott's who will share his insights on this important topic.
At this Common Interest Workgroup we will discuss why some change efforts fail, and some succeed?
• What are successful change leaders doing that others are not?
• Have you analysed a change that did not work? What were the factors?
• Does your organisation have the capacity to change?
• How are you leading the change efforts that you are responsible for?
• Are you set for success or failure?

Join in a lively discussion and get some great insights from others on when and how they have been successful with their change efforts.
Then go back and review how you are leading change and change for the better.

---

---

Who should attend?
This event is ideal for anyone interested in learning about leading change.


Investment?
As a member of SIRF Rt you can register up to 2 people, subject to availability, to attend this event.
This event is for SIRF Rt members only, there will be no general public access to this event.
When do I need to register by?
Registrations close 10 day prior to event date.
Registrations are based on a "first come, first served" basis.
There are no allocated seats with membership.


What if I can no longer attend and need to cancel my registration?
Seats are limited at all events, so if you are registered and are unable to attend please notify the event organiser as soon as possible with the details of who within your organisation is attending in your place. If there is no replacement from within your company, we will contact members on the 'waitlist'.


Who can I contact for further information?
Heidi Thompson | heidi.thompson@sirfrt.com.au | 0419 511 767
David Newland | david.newland@sirfrt.com.au | 0439 836 629