Description
Industrial Maintenance Rt (IMRt)
CIWG Topic: Lean Maintenance Systems
This CIWG is proudly being hosted by SIRF Rt Member:

The CIWG topic in detail:
What applies to operations should also apply to maintenance.
How is your organisation implementing lean principles in maintenance?
Lean tools, including 5S, SMED (single-minute exchange of die), standard work and Kanban, can all be successfully applied in the maintenance workshop. There are few workshops that couldn't use 5S to improve tool availability and reduce hazards.

SMED could allow us faster tooling changes on our maintenance equipment.

Standard work can vastly improve tool maintenance practices.

If there is a tool crib, why not implement a Kanban system for spare parts and consider vendor-managed inventory (VMI)? When we know our demand for spares we can manage them at a lower cost. Converting to VMI can reduce time spent managing small parts and swap inventory on the balance sheet for cash.
Whether you have a deeply ingrained Lean Maintenance system, or are just beginning this journey, there is always something to learn by sharing.

Join your peers as we discuss topics like:
Lean training for Maintenance personnel

Techniques for managing 5S in Maintenance areas

Benefits of Kanban for tools and spares

Reliability Engineers and Asset Managers role in Lean Maintenance

How to get started with Lean in Maintenance

The benefits of Lean principles in Maintenance
SIRF Roundtable's Common Interest Workgroups (CIWG's) are an excellent forum for networking and engaging in 'peer to peer' learning with other SIRF Rt Members. To get the most out of the event you need to attend the CIWG with a willingness to contribute to group discussions.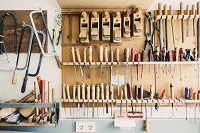 ---



---

Who should attend?
This event is ideal for anyone who needs to improve their office processes and can influence that change.


Is the event catered?
A light morning tea and lunch will be provided by the host site.
If you have specific dietary requirements, please notify the event organiser at least 10 days prior to the event otherwise we cannot confirm your needs will be catered for.


Are there any special requirements for this site I need to be aware of ?
An email will be sent to all registered attendee's at least 7 days prior to the event to confirm attendance and to provide all event information including parking and PPE requirements.
**Do not 'unsubscribe' from Eventbrite emails otherwise you will NOT receive critical event information


Investment?
As a member of SIRF Rt you can register up to 2 people, subject to availability, to attend this event.
This event is for SIRF Rt members only, there will be no general public access to this event.


When do I need to register by?
Registrations close 10 day prior to event date.
Registrations are based on a "first come, first served" basis.
There are no allocated seats with membership.


What if I can no longer attend and need to cancel my registration?
Seats are limited at all events, so if you are registered and are unable to attend please notify the event organiser as soon as possible with the details of who within your organisation is attending in your place. If there is no replacement from within your company, we will contact members on the 'waitlist'.


Who can I contact for further information?
Heidi Thompson | heidi.thompson@sirfrt.com.au | 0419 511 767
David Newland | david.newland@sirfrt.com.au | 0439 836 629