Join River City Labs and Tractor Ventures for a QLD Female Founded Tech Startups Pathways to Capital panel discussion.
About this event
This session will provide you with tips and knowledge on alternative pathways to fundraise. During this session we will hear insights from Jodie Imam, Cofounder and Chief Operating Officer at Tractor Ventures; Noga Edelstein, Venture Partner at Black Nova Venture Capital; Fleur Madden, CEO at Freelancing Gems and Rebecca Dredge CEO and Founder at Kiddo.
The panel will be moderated by Pauline Fetaui, General Manager at River City Labs.
MEET OUR PANEL:
Jodie Imam, Cofounder and Chief Operating Officer at Tractor Ventures
Jodie is passionate about helping businesses start and grow. Jodie is currently the COO at Tractor Ventures.
Tractor Ventures provides a flexible, revenue based financing alternative for founders who want to lead profitable technology companies. We believe that not all ambitious founders need venture capital.
Prior to this Jodie was at SBE Australia where she led the team in accelerating some of Australia's most innovative female leaders.
Jodie set up the Innovation Bay community in Melbourne, am an advisor to multiple startups and mentor at Startmate.
Previously, Jodie cofounder two-sided marketplace, Occasional Butler, which was acquired by rival Airtasker and depo8 coworking.
At the Wade Institute Jodie was a mentor, lecturer and Director of Startups.Prior to this Jodie spent nine years as the General Manager for leading Australian fashion designer Leona Edmiston, driving strong business growth from 2 stores to 25 stores and growing the team from 3 to 50+.As well as an Account Manager for Ericsson Australia and also for NCR Corporation in both Sydney and London.Jodie has a Bachelor of Commerce (Marketing) from the University of Western Sydney and a Masters in Financial Management from the Macquarie Graduate School of Management.
Noga Edelstein, Venture Partner at Black Nova Venture Capital
Corporate lawyer turned entrepreneur, startup advisor and investor, Noga has been deeply immersed in the startup ecosystem since 2013 when she co-founded on-demand home services marketplace UrbanYou which scaled rapidly to secure leadership of one of Australia's largest technology-disrupted markets and successfully exited to Oneflare. Noga's insight into the startup journey and ability to work hands-on with early-stage founders has seen her mentor 100s of startups at Australia's leading accelerators and build a portfolio of angel investments. She serves on the Board of SBE Australia which supports women-led business, is a Venture Partner at Black Nova Ventures and Entrepreneur-in-Residence at Tractor Ventures. Before founding UrbanYou, Noga was General Counsel at Yahoo!7 and worked at top-tier law firms in Sydney and London.
Fleur Madden, CEO at Freelancing Gems
Fleur Madden has spent her whole career creating opportunities for women. She is an award winning business woman, experienced CEO/Founder, recognized industry expert and women in business speaker with 18 years experience running her own businesses.
Fleur started her first company The Red Republic at 23 that she sold 14 years later to a multinational. Along her journey, she has acquired other businesses, founded an online beauty company Lulu and Lipstick that she sold in 2016, where just prior her makeup brushes were in the gift bags for the 2016 Oscars. She has sat on an international board and since her semi retirement in 2018, she has been advising other CEO's on growth strategies and preparing for a business sale.
It was during her ' retirement' that Freelancing Gems as a concept started to come to life.
Fleur has spent her whole career leading teams of women, being passionate about the advancement of women at work and creating opportunities for women to grow and evolve.
Her favourite saying driving her at Freelancing Gems is "Don't Play Small."
Rebecca Dredge, CEO and Founder at Kiddo
Founder of Kiddo®️ providing parents freedom and time. We do this by connecting parents to local, verified and affordable nannies and babysitters.
Rebecca is an experienced business professional, with a demonstrated history of working in the financial services industry. She holds a Bachelor of Business (Accounting) with distinction and is also a qualified Certified Practicing Accountant.
Her relationship management skills are exceptional, she strives to provide her customers only the very best. She is also highly skilled in project management, agile software development, marketing and business development.
Pauline Fetaui, General Manager at River City Labs (Moderator)
Pauline Fetaui is General Manager of River City Labs; Founder of CheeHoo a Personal assistant and Organiser app; Co-host of a Splash of Colour Podcast. Prior to Joining River City Labs, Pauline brings 19 years as leading and delivering Digital, Tech Transformation and Regulatory Change across Banking, Superannuation, Insurance and Government.
Powered by River City Labs and Tractor Ventures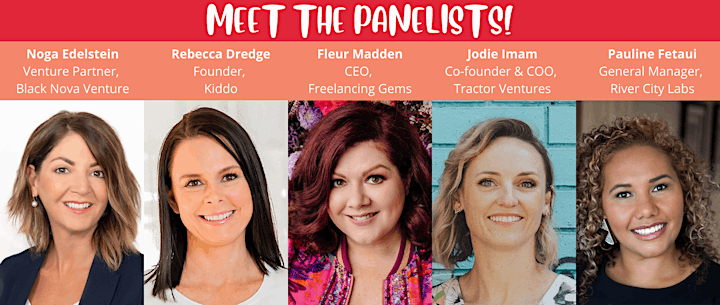 Organiser of QLD Female Founded Tech Startups Pathways to Capital