QLD | 2020 Economic Outlook Briefing with Paul Bloxham - Monday 2 March
Description
The French-Australian Chamber of Commerce and Industry is pleased to invite you to its 2020 Economic Outlook Briefing with Paul Bloxham, Chief Economist at HSBC Australia & New Zealand on Monday 2 March from 12pm to 2pm. The presentation will be preceded by a light buffet lunch* kindly offered by our host and Corporate Member, Clayton Utz.
Low for longer arrives in Australia
With inflation below target, growth below trend and the global backdrop looking shaky, local policymakers have jumped into action. The RBA has cut further, tax cuts have been delivered and the prudential authorities have loosened their settings. As a result of this, and the actions of other global central banks, asset prices have taken off. Australian housing prices are rising again and the equity market has hit new record highs. But will it be enough? What happens if it isn't? What should policymakers do next? Where are we headed in 2020? Come to lunch for frank discussion about all this and more.
OUR GUEST SPEAKER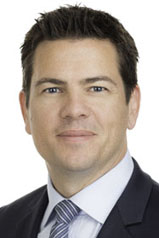 Paul Bloxham is HSBC's Chief Economist for Australia, New Zealand and Global Commodities. He is chief spokesperson for HSBC on forecasts and trends for the Australian and NZ economies and their interaction wih global financial markets and international economies.
Prior to joining HSBC in 2010, Paul Bloxham spent 12 years as an economist within the Reserve Bank of Australia's Economic Analysis Department where he headed up the overseas economies and financial conditions sections, as well as working on domestic forecasting and prices.
Paul is a regular commentator on local and international business television and a frequent contributor of opinion editorials to the Australian newspapers. Paul is also a member of the Australian National University's Shadow Reserve Bank Board and is and Adjunct Professor at Curtin University. He holds a Master's degree in public financial policy from the London School of Economics.
Dress Code: Business attire
* Please contact us (qld@facci.com.au) by Monday 24 February noon for any special dietary requirements.
OUR PARTNER