QLD | 2019 Bastille Day Business Breakfast @ Sofitel Central Brisbane
Description
The French-Australian Chamber of Commerce and Industry in Queensland is delighted to announce an exclusive flash sale - for members ONLY - to attend its traditional Bastille Day Champagne Business Breakfast on Friday 19 July in Brisbane.
The breakfast is held annually to celebrate France's National Day which commemorates the storming of the Paris prison known as the Bastille on 14th July 1789 and the birth of the French Republic. This year's breakfast, kindly sponsored by our Corporate member Holding Redlich, will also be the opportunity to celebrate the 120th anniversary of the French-Australian Chamber of Commerce and the great friendship between our two countries.
Join us, our VIPs and keynote speaker Pat Howard, former Australian Wallaby rugby player and General Manager of Team Performance at Cricket Australia, on this very special occasion.
Be ready for a delicious gourmet breakfast, specially put together for us by Sofitel Brisbane Central's Executive Chef, Patrice Falantin, Nespresso coffee and Champagne, of course!, thanks to our partner DiscoverVin.
We look forward to welcoming you, your colleagues, staff members and guests!
OUR KEYNOTE SPEAKER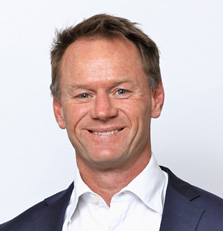 Pat joined Cricket Australia as Executive General Manager - Team Performance in November 2011. During his time with Cricket Australia, Pat has overseen World Cups and Ashes in the Men's and Women's program, Number 1 in all formats but Men's T20 (currently ranked 2nd) and seen developments in coach education, pathway changes and restructuring of domestic competitions.

Pat started his sporting career whilst studying a pharmacy degree at The University of Queensland. He went on to become a Rugby Union international at 19, winning numerous awards as a player and later as a coach.
Pat has an enduring connection with France. His first tour of the Wallabies as the youngest player of the tour was in France, sitting on the bench for a Test in Bordeaux. 10 years later in 2003, he joined ASM in Clermont Ferrand learning the uniqueness of playing professional rugby in France.
In 2004 he became director of rugby at Leicester Tigers, considered the leading professional rugby club in Britain. Pat was 2007 European Director of Rugby and the first person to be European coach (2007) and player of the year (2001). In 2007 he moved back to Australia to become General Manager of the High Performance Unit of Australian Rugby Union where he was responsible for the recruiting of the 2007-13 Wallabies management.
Pat spent three years as COO of Cromwell Property Group (ASX 200), one of Queensland's largest listed companies with three operating segments – property investment, funds management and property development. Pat is also co-founder and director of a pharmacy management business, Rx Management, which now has 18 pharmacies in three states.
Dress Code: Business attire
* Please contact us by 12pm on Friday 12 July for any special dietary requirements.
OUR MAIN SPONSOR & PARTNERS