Sales Have Ended
Registrations are closed
Many thanks for signing up to our QAMH event. See you in May!
Sales Have Ended
Registrations are closed
Many thanks for signing up to our QAMH event. See you in May!
Description
---
DAY 1 - Thursday 18 May 2017
---
12:00pm - 1:00pm
Lunch and networking
We would love you to join us and meet other QAMH and Queensland Transition to NDIS for Mental Health Strategic Forum (QTN Forum) members for lunch, prior to the afternoon of sessions.
1:00pm - 3:00pm
Queensland Transition to NDIS for Mental Health - Open Forum
The QTN Forum provides a mechanism to discuss the specific issues for people who live with a mental illness, mental health service providers, representative bodies and state and commonwealth governments in the plans to roll-out the NDIS in Queensland.
The role of the Forum, chaired by Kris Trott, CEO of QAMH, is to develop a shared vision for a future service system once NDIS is implemented.
This session has been opened for QAMH members to hear about the latest news and to have their say.


Agenda
Parliamentary Standing Committee Submissions on NDIS & Mental Health

Update from Launch Sites

Site 1 – Townsville, Palm Island & Charters Towers

Site 2 – Mackay, Isaac & Whitsundays

Site 3 - Toowoomba
3:00pm - 5:00pm
Workshop on Strategic Framework for Suicide Prevention

Speaker: Stephen Holland, Suicide Prevention, Australia
This is a consultation workshop on the proposed Strategic Framework for Suicide Prevention. The feedback will be recorded and used for the Suicide Prevention Australia Board and the National Coalition for Suicide Prevention in development of a recommended framework to Federal Government by mid-2017.

Agenda
Introduction and background

Briefing on lived experience

Break-out group workshop

Feedback.
5:00pm - 6:00pm
Mindful Networking - Drinks & Nibbles

We would love you to join us post-workshop for mindful networking over drinks and nibbles.




---
DAY 2 - Friday 19 May 2017
---
08:45am - 9:45am
Annual Alliance Member Meeting
This is the annual meeting of members to disucss 2015-16 actuals and to look at the strategic planning for the year ahead.

Agenda
QAMH Update by CEO & Chair, followed by morning tea.



09:45am - 12:00pm
Let's NOT talk about NDIS - Mental Health Reforms
This session is based on feedback we've received from our member's that it's not all about NDIS. It will address some of the reforms underway in the Queensland Mental Health system.

Agenda
Presenters from Queensland Health
Establishment Data Collection

Safety & Quality Standards

Mental Health Act

Connecting Care to Recovery
12:00pm - 1:00pm
Networking and Light Lunch
As QAMH members, we'd love for you to stay on and join us for networking over a light lunch.
---
Important Information

---
Registration
You can register for yourself and up to three more participants from your organisation. Places are limited, so if you are unable to attend after initial registration, please email us immediately at jbacon@qamh.org.au. Registration closes at 5:00pm on Friday 5 May 2017 for all events.
Dress Code
Businesswear.


Transport/Parking
Public transport
Woolloongabba bus station is 450m (approx. 5 mins walk) from the Queensland Cricketers' Club (QC Club).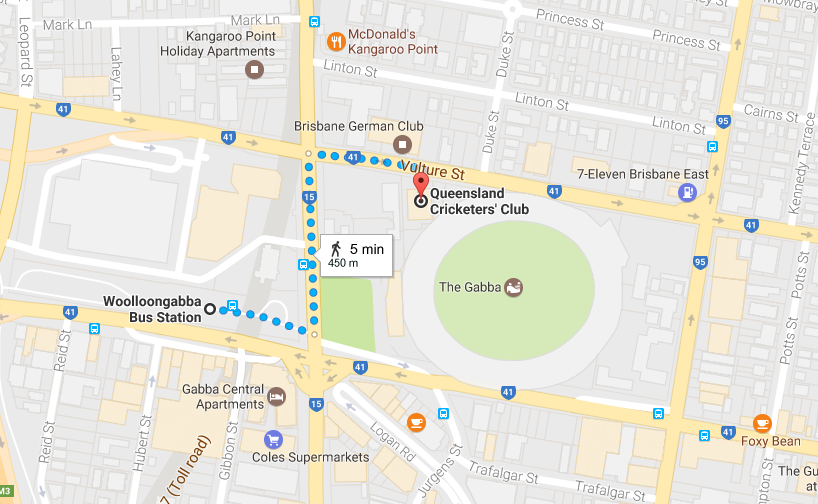 Car parking
Places are strictly limited to 50 car parks, please arrive early to secure. The QC Club car park is located at 87 Linton Street, East Brisbane, a short walk up Vulture Street to the Club. Linton Street runs parallel to Vulture Street. For entry from Vulture Street, turn left at the lights at the end of The Gabba stadium (Wellington Road). Once on Wellington Road, turn at the first left into Linton Street. The QC Club car park is located a few hundred metres up Linton Street on the left hand side.


Access to Car Park and QCC
To gain access to the car park, please exit your vehicle and press the intercom button located on the Queensland Cricketers' Club sign, to the right of the security gate. Once parked, exit on foot via the pedestrian gate on the Vulture Street side of the car park, then walk up Vulture Street (towards Main Street) until you see the QC Club walkway on your left, which is located just past The Gabba's Gate 4 entrance.


Pick up and Drop Off Points
There is a loading zone located between Gate 4 and the QC Club walkway for drop offs and pick ups.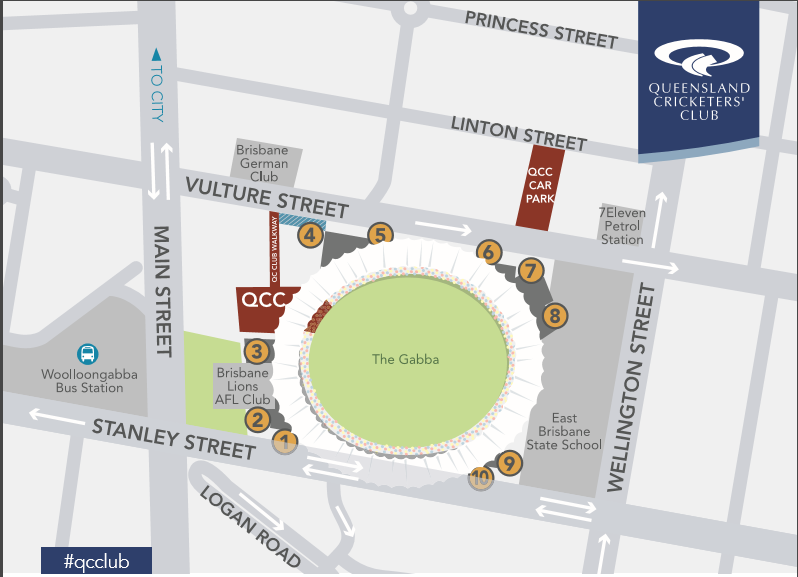 Accommodation
If accommodation is required for the night of 18th May, QAMH has secured a special discounted rate of $140 for a studio room at Quest Apartment Hotels Woolloongabba. The hotel is a short walk from the Queensland Cricketers' Club / 'Gabba Stadium and has guest parking facilities. To ensure that you receive the special rate, please mention that you are attending an event for Queensland Alliance for Mental Health upon making your booking.

Special requests
If you have any special dietary requirements or other requests, please fill out as part of your registration form.

Questions
If you have any questions or would like assistance registering, please call the QAMH office on 07 3252 9411 or email jbacon@qamh.org.au and we are hapy to help. If registering via a tablet or mobile phone, you may find it easier to download the Eventbrite app.