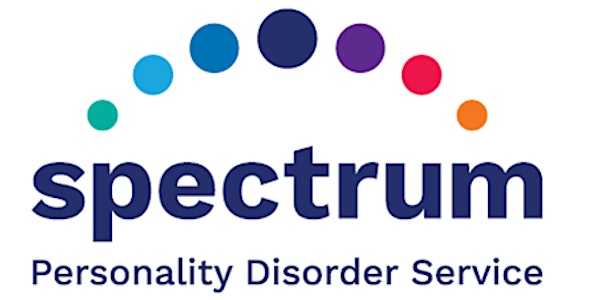 Q & A Session for General Practitioners for Working with People with BPD
Sales Have Ended
Registrations are closed
Thank you for your interest in the Spectrum Q & A Session for General Practitioners for Working with People with Borderline Personality Disorder. Unfortunately booking for this session has now closed. If you require any further information, please do not hesitate to contact Ms Josie Shinkfield at Josephine.Shinkfield@easternhealth.org.au
Sales Have Ended
Registrations are closed
Thank you for your interest in the Spectrum Q & A Session for General Practitioners for Working with People with Borderline Personality Disorder. Unfortunately booking for this session has now closed. If you require any further information, please do not hesitate to contact Ms Josie Shinkfield at Josephine.Shinkfield@easternhealth.org.au
Q & A Session for General Practitioners for Working with People with Borderline Personality Disorder (BPD)
About this event
Q & A Session for General Practitioners for Working with People with Borderline Personality Disorder (BPD)
Wednesday the 7th October from 6.30pm to 7.30pm
GPs are invited to attend this free live video-conference session with a panel comprising three very experienced specialists, including two Spectrum psychiatrists and a GP Specialist. The session will provide an opportunity to raise questions and discuss issues regarding both practice and knowledge in relation to working with people with BPD and to participate in facilitated and informative consideration of the questions raised.
Topics for consideration will be on general practice questions rather than about specific clients.
Panel: Associate Professor Sathya Rao, Dr Gillian Singleton, and Dr Lukas Cheney
Associate Professor Sathya Rao is a psychiatrist and the Executive Clinical Director of Spectrum, specialist service for personality disorders in Victoria. He is the Vice President of the Australian BPD Foundation. He is also an adjunct clinical associate professor at Monash University. Dr Rao is involved in clinical research and has published research papers, contributed chapters and co-authored books on Borderline Personality Disorder. He was a member of the NHMRC Clinical Practice Guidelines development committee, 2012. He has taught clinicians across Australia and was the head of psychiatry training program of Victoria for the RANZCP previously. He is involved in treating complex personality disorder patients and provides second opinions and secondary consultations for complex clinical conditions associated with personality disorders. He was the recipient of the 2020 Meritorious Award of the Victorian Branch of RANZCP.
Dr Gillian Singleton is a general practitioner of 20 years experience. She is the medical director of the Cabrini Asylum Seeker and Refugee Health Hub in Melbourne. She has a longstanding interest in mental health, particularly borderline personality and post-traumatic stress disorders.Gillian is involved in medical education through the RACGP GP learning platform, is a co-host of the RACGP podcast #GenerallySpeakingGP and is involved in social justice advocacy, particularly for people seeking asylum. She enjoys providing thorough, holistic care to patients of all age groups. She believes that good health should be accessible to all and that every person has the right to be empowered with the knowledge and skills to make wellness a priority.
Dr Lukas Cheney is a consultant psychiatrist at Spectrum. He has training in Dialectal Behaviour Therapy and Mentalization Based Treatment and has a keen interest in research to improve our understanding of personality and associated disorders. In his work at Spectrum, Dr Cheney has a particular interest in working with people with complex presentations. He is a strong advocate for stepped care models of treatment for personality disorder and believes that, with the right knowledge, any mental health clinician can engage therapeutically with a person living with personality disorder.
Please note, the Zoom meeting invitation will be provided closer to the event.
Questions will be taken live within the session. Additionally, if you have any questions you would like the panel to address, or issues related to registration please contact Ms Josie Shinkfield on the address below.
Josephine.Shinkfield@easternhealth.org.au
Organiser of Q & A Session for General Practitioners for Working with People with BPD
Spectrum is a specialist statewide service for personality disorder for Victoria. Spectrum supports and works with Victorian Area Mental Health Services (AMHS) and health professionals to provide treatment for people aged 16-64 who are assessed as having personality disorder. Spectrum provides secondary consultation, training, workforce development and advocacy as well as direct clinical work for those for whom a specialist service is most appropriate.