Publish or Perish: the future of academic publishing and biomedical researc...
Description
Publish or Perish
Australia's medical research community is facing important pressures and challenges. Cuts to funding, uncertain career prospects and research careers cut short, the push for better research translation for social impact are among some of the issues that are confronting many researchers. We have convened a panel to discuss an emerging issue confronting the local biomedical research community: the disruption to academic publishing and its likely impact on the sector.
Academic journals have been the longstanding method for scientists to communicate new knowledge and ideas to their peers. They are influential in building the reputation and career of researchers, the reputation and ranking of research institutes and universities, securing research funding, and facilitating translation for impact. Access to this new knowledge was only possible through a subscription model where scientists or institutions pay to access journals, commonly referred to as the paywall barrier. As a result, publishing of academic journals has also become a major business.
The digital revolution is disrupting academic publishing. Digital journals have changed the nature of and access to scholarly academic material through new distribution channels. Authors are bypassing subscription-based publishing and adopting an Open Access publishing model, where no payment is required to access articles or journals, giving academics the freedom to make their research available to the wider community. In the biomedical sciences, examples of Open Access is represented by journals such as PLOS (Public Library of Science) and BioMed Central.
Open Access publishing is gaining support, with a growing number of universities in the US and Europe not renewing multi-year licences with journal publishers. The European Union has resolved that all European scientific publications should be accessible by Open Access from 2020. A largely European-based initiative, Coalition S, is insisting that by 2020, it will be mandatory that any research funded by consortium members be freely and immediately available to the public.
The disruption of academic publishing is a global phenomenon, but what impact may it may have on our biomedical research community?
What are the features of the Open Access model?

How should researchers choose between publishing in traditional journals vs Open Access journals?

Will Open Access publishing result in better outcomes – for researchers, universities, research institutes and the economy?

Will Open Access publishing result in greater innovation?

How are our universities and funding bodies responding to this new publishing model?
We are bringing a panel of experts together representing the key stakeholders in Australian biomedical research to address these and other questions.
Our panel members: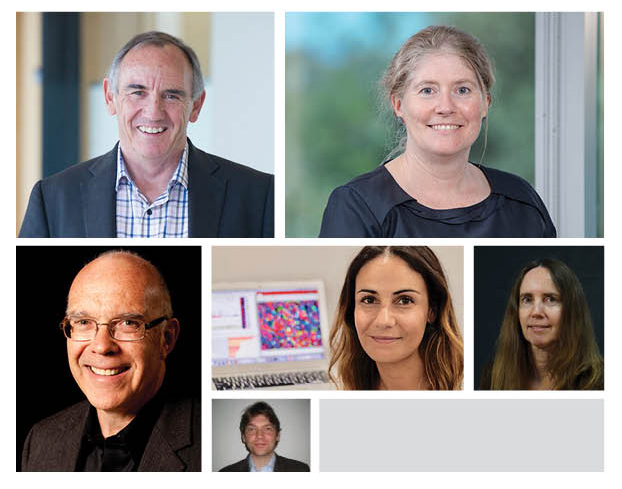 Professor James McCluskey AO, Deputy Vice-Chancellor (Research), University of Melbourne

Dr Julie Glover, Executive Director of the Research Foundations Branch,National Health and Medical Research Council

Dr Glenn Begley, CEO, BioCurate Ltd

Dr Clare Fedele, Senior Postdoctoral Researcher, Peter MacCallum Cancer Centre

Mr James Mercer, Regional Sales Director Oceania, Springer Nature

Professor Beth Webster (Moderator), Director, Centre for Transformative Innovation, Swinburne University of Technology
Who will benefit by attending this event?
Researchers, particularly in the sciences, bioengineering and computing disciplines

Businesses related to the biotechnology, pharmaceuticals and medical technology industries

Undergraduate and postgraduate students

Anyone interested in the future of biomedical research in Australia
Panel Biographies:
---
Professor James McCluskey
James McCluskey AO, FAA, FAHMS B Med Sci (UWA), MBBS (UWA), FRACP, FRCPA, MD (UWA) is Deputy Vice Chancellor Research and Redmond Barry Distinguished Professor in Microbiology and Immunology at The University of Melbourne.
He trained in Perth as a physician and as a research fellow at the National Institutes of Health (USA). He has held senior positions at Monash University, Flinders University and the Australian Red Cross Blood Service in Adelaide, South Australia. He established the SA unrelated bone marrow donor registry.
He has published more than 320 scientific articles on HLA, immunogenetics, antigen presentation and immune recognition. His work has spanned transplantation biology, autoimmunity, T cell hypersensitivity and recognition of non-peptide ligands by unconventional T cells.
He led the development, funding and establishment of the Peter Doherty Institute for Infection and Immunity and coordinated the team that won a USD$50M grant from The Atlantic Philanthropies to help to establish a new Fellowship program focused on indigenous leadership to effect social change
He is a past President of the Australasian Society for Immunology, The Australasian & South East Asian Tissue Typing Society and the International Histocompatibility Workshop Group.
He has been a director of more than 10 independent medical research institutes and cooperative research centres.

---

Dr Julie Glover
Dr Glover is the Executive Director of the Research Foundations Branch of the National Health and Medical Research Council (NHMRC). This includes responsibility for directing NHMRC's research support schemes, leading strategic research activities and international collaborations.
Dr Glover completed a PhD in the Faculty of Science at the Australian National University in 1996 and held research positions until joining the Bureau of Rural Sciences in 2002. In 2007 Julie moved into the Innovation Division of the Department of Industry and spent the next four years developing and delivering key innovation policies. Dr Glover joined NHMRC as a Director in 2011
---
Dr C. Glenn Begley M.B., B.S., Ph.D., F.R.A.C.P., F.R.C.P.A., F.R.C.Path., F.A.H.M.S.
Dr Begley is the inaugural CEO of BioCurate, a joint initiative of Monash and Melbourne Universities and created to provide commercial focus in the early phases of drug development.
He served as Chief Scientific Officer at Akriveia Therapeutics, California (2016-2027) and TetraLogic Pharmaceuticals, Pennsylvania (2012-2016). From 2002-2012, he was Vice-President and Global Head of Hematology/Oncology Research at Amgen, Thousand Oaks, California, responsible for building, directing and integrating Amgen's 5 research sites. There he highlighted the issue of research integrity and scientific reproducibility.
Since then he has made multiple presentations on the subject of scientific integrity including to President Obama's Science Council, the White House, US National Institutes of Health, US Academies of Science, US National Institute of Standards and Technology, the British Broadcasting Company, Wellcome Trust, Australian National Health and Medical Research Council, and numerous Universities, Research Institutes and companies.
Before Amgen he had over 20 years of clinical experience in medical oncology and hematology. His personal research focused on regulation of hematopoietic cells and translational clinical trials. His early studies, in Prof Donald Metcalf's department first described human G-CSF, and in later clinical studies, performed in Professor Richard Fox's Department at the Royal Melbourne Hospital, the group first demonstrated that G-CSF-"mobilized" blood stem cells hastened hematopoietic recovery, a finding that revolutionized bone-marrow transplantation.

His honors include being elected as the first Foreign Fellow to the American Society of Clinical Investigation in 2000, to the Association of American Physicians in 2008, and in 2014 to the Research "Hall of Fame" at his alma mater, the Royal Melbourne Hospital and to the Australian Academy of Health and Medical Sciences.
---

Dr Clare Fedele
Dr Clare Fedele is a cancer scientist and Strategic Research Communications Officer at the Peter MacCallum Cancer Centre.
She has a PhD in biochemistry from Monash University and has been the recipient of prestigious fellowships from the NHMRC and the Victorian Cancer Agency.
Clare is passionate about science outreach and is a regular on ABC Melbourne Breakfast radio, where she brings biomedical science stories to life.
In 2017 Clare was named a Superstar of STEM by Science and Technology Australia, a federal program aimed at increasing the public visibility of female leaders in STEM industries.
---

Mr James Mercer
James Mercer is the Regional Sales Director Oceania, Springer Nature. He has worked in academic publishing in commercial roles for 20 years. Joining Springer in 2008 he has been responsible for Springer Nature's sales in Southeast Asia and Oceania. Between 2004 and 2008 he was responsible for Oxford University Press' journals business across the Asia-Pacific region.
Prior to joining OUP James fulfilled a number of positions at Blackwell's in the UK after graduating from the University of Leeds in 1999.
---
Professor Beth Webster
Beth Webster is the Director of the Centre for Transformative Innovation at Swinburne University. Previously she was Director at Intellectual Property Research Institute of Australia and Professorial Fellow, Melbourne Institute of Applied Economics and Social Research. She has a PhD from the University of Cambridge. She has undertaken wide-ranging research on the economics of innovation, intellectual property, as well as more general research on the performance of Australian enterprises. This includes over 100 articles in refereed journals.
Recent government clients include the Commonwealth Departments of Industry, Technology and Resources; Employment; Education, Training; IP Australia; the Fair Pay Commission; AusAID and the Victorian Departments of Treasury and Finance and Environment, the European Commission, the OECD and the Garnaut Climate Change Review. Industry clients include IBM, Medicines Australia; the Business Council of Australia.
In recent years she has undertaken many studies on industry performance, both using BLADE and other relevant datasets, for the Victorian Government, The Australia Department of Industry, Austrade, IP Australia, The Department of Foreign Affairs and Trade inter alia.
---
Event details:
Date:
Tuesday, 18 June 2019
Time:
6.00pm – 7.30pm
Venue:
Elisabeth Murdoch Theatre A
Elisabeth Murdoch Building
University of Melbourne
Parkville